Mamelodi Sundowns
Mamelodi Sundowns' 2019 New Year's resolutions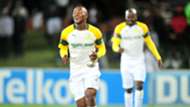 With every new year comes new hopes and dreams, and 2019 is destined not to be any different especially for Mamelodi Sundowns.
2018 proved to be an indifferent year for the Tshwane giants as aside from winning the league they were unable to walk away with any other prizes.
For a lot of teams, a league triumph and back-to-back Caf Champions League group stage berths would be seen as a great achievement, but in the case of Sundowns, it might be interpreted as average.
Nonetheless, 2019 offers Sundowns the ideal springboard to continue their rise up the African football ranks.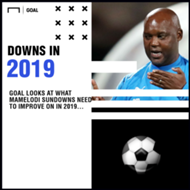 Over the years Sundowns have shown that conquering Africa is the ultimate goal, and Pitso Mosimane and his charges immediately have an opportunity to win Africa's most lucrative inter-club trophy.
It will be Sundowns' fourth consecutive year in the group stages, and after learning the identities of their opponents they will be carefully optimistic.
So, while climbing to the summit of African football is a priority, a tournament where they were last proclaimed as champions back in 2016, there is still a lot to fight for and improve on.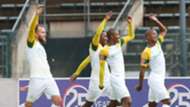 After spending hefty sums on rebuilding their squad Mosimane will hope to see his team click into gear.
Although Masandawana have consistently dominated South African football in recent times, they have not been all too convincing, especially at home.
Just one home win since the beginning of the 2018/19 campaign is nothing to be too excited about, and that should be the first thing that Sundowns should hope to improve on.
Nonetheless, while winning the Champions League will be seen as the goal, defending the league is expected to be the bare minimum.
If Mosimane wants to talk about Sundowns' desire to compete on the grandest stage in the Fifa Club World Cup and the Champions League final, this can only be achieved by doing well domestically.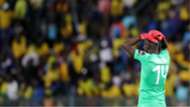 Undoubtedly, Sundowns have set themselves up for a second-half surge to the top, but much more will be expected from fans and critics.
Goal scoring is another concern. Sundowns have scored just 14 goals in 12 league games.
This will almost certainly see them dip into the transfer market in search of a lethal striker. A forward that can deliver the goods, would immediately see the Brazilians stamp their authority considering the plethora of missed chances that they have experienced.
Lastly, a new year is all about revitalisation and change, but in the case of Sundowns' unbeaten record, they will hope that they continue their run. 25 games unbeaten is no small feat, and if they are able to go through the next few months without defeat in the league, a perfect season might just be something to consider.
But for now, the Tshwane giants need to take it one game at the time and winning their first game of the new year against a rejuvenated Kaizer Chiefs, may just be what is needed to set themselves up for success in 2019.