Maldives
Maldives in all sorts of problems prior to Malaysia friendly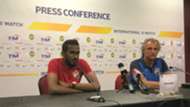 Maldives will be Malaysia's final test before Tan Cheng Hoe names his squad of 23 for the 2018 AFF Suzuki Cup, ironically in Maldives they will be facing the 2018 SAFF Suzuki Cup champions.
Coach Petar Segrt led his side to an incredible victory two months ago after they defeated the much higher-ranked India team in the final to clinch only the second trophy in the competition since it's inception.
But the Croat Segrt is tempering expectations this time around and is already playing down his team's chances during the pre-match press conference on Friday. Naming youngster Hussain Shareef for his first ever international start, Segrt hands the favourite tag to Malaysia.
"We have the first match after winning the South Suzuki Cup which was our biggest moment in recent times," said Segrt. "Shareef is 20 and will make his first game tomorrow (Saturday). We have some situation with our first choice goalkeeper broke his finger. So will make some changes in our defence also."
"We brought 17 year old and 19 year old for this match. We did not have training for six weeks and it's only here that we were able to have one or two sessions. We will see what we can do with just one training but I can't do magic. These are semi professional players but we'll try to do our best in the game."
Two years ago when Malaysia were preparing for the 2016 AFF Suzuki Cup, Segrt was also on the opposite bench but with a different national team. His then Afghanistan side held Ong Kim Swee's Malaysia to a 1-1 draw at Shah Alam Stadium two years ago.
Calling his Maldives team one that is on the rise and with very good potential youngsters, Segrt will be looking to employ a brand of attacking football at Bukit Jalil National Stadium. The 52-year-old calls the stadium one of the best one he's seen and one that his young players will be looking to cherish.
Malaysia jumped two spot from 171 to 169 in the latest released FIFA rankings and a good result against 151st ranked Maldives will also add valuable points that sees the country continue their rise up the charts.
Follow Goal Malaysia on Instagram
 

 

Would you like to see a breakaway European Super League with these teams? 🇪🇸 Real Madrid, Barcelona, Atletico Madrid 🏴󠁧󠁢󠁥󠁮󠁧󠁿 Man Utd, Chelsea, Arsenal, Man City, Liverpool 🇩🇪 Bayern Munich, Borussia Dortmund 🇮🇹 Juventus, AC Milan, Inter, Roma 🇫🇷 PSG, Marseille #FootballLeaks

A post shared by Goal Malaysia (@goal_malaysia) on Nov 2, 2018 at 11:03am PDT