Mamelodi Sundowns
Lovers Mohlala: Mamelodi Sundowns will not struggle against Chippa United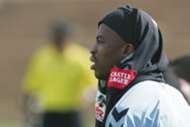 The 1-0 win over Bloemfontein Celtic in the Telkom Knockout Cup last weekend has helped Mamelodi Sundowns to turn the corner, that is according to former defender Lovers Mohlala.
The former Premier Soccer League (PSL) championship winner with the Brazilians has backed coach Pitso Mosimane's men to pile more misery on Chippa United on Saturday night.
"I think there are challenges in the Sundowns camp. They have lost so many players in the recent past and I am not surprised to see them struggling," Mohlala told Goal.
"The trip to Chippa comes at the right time because they are slowly getting the right combinations and they are very close to finding consistency to return to the old Sundowns we know," he explained.
"You will remember that the CBD has been dismantled altogether and they brought in new strikers such as Jeremy Brockie, but things are not going well for him," he noted.
"In my opinion, they are not struggling in terms of play but goals are dry. I was happy though to see (Gaston) Sirino scoring and playing very well last week," said the former Bafana Bafana international.
The reigning PSL champions have secured two wins out of seven league games so far this season while drawing five, but Mohlala reckons the win over Phunya Sele Sele will boost their morale.
"I think the win over Celtic has helped them turn the corner and the likes of Toni (Silva) are getting things right. I expect a win against Chippa on Saturday," he reflected.
"I think we need to give them a chance because you will remember Pitso was criticised and he proved many of his critics wrong. I still believe that he is the best coach in South Africa because he doesn't hold on to his players and that proves he is prepared to start afresh and come up with new players," backed the former Wits University left back.
"I can safely say Patrice Motsepe was smart to hire Pitso, and because they are not about making money, the players are getting a great chance to showcase their opportunity even going abroad yet still winning trophies," continued Lovers.
The Alexandra-born legend also touched on the Chilli Boys' struggles as they are still licking their wounds after their TKO Cup defeat to Orlando Pirates last weekend.
"Sundowns will beat Chippa because they are not stable even with a good coach like (Eric) Tinkler. The problem is with the management. I doubt if they have a plan. For instance, a club must have a three-year plan, but I don't think they have such because they fire coaches every season or twice in one season," said Mohlala.
"I also don't think their (Sundowns) PSL title is threatened. I trust they will bounce back and we know they finish better than most teams in the league - they will defend their crown," he concluded.
The clash will be staged at the Sisa Dukashe Stadium on Saturday night. Kickoff is at 20:15.