Super League
Longhi denies rift with Safiq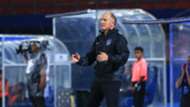 Even though Safiq has only started four domestic matches since Longhi took over the head coach duties from Ulisses Morais, the Argentine is adamant that the reason for the experienced midfielder in seeing less game time is not due to any indifference between the pair.
This season has seen the usually influential Safiq appearing less and less in the starting XI. As one of the vital cogs of the JDT machine that have swept all before them in the past four Super League seasons, it is an incredible sight to see the former national team captain taking up a susbstitute position.
Today, Longhi released a statement on the Johor Southern Tigers Facebook page to explain that the decision to do so was a collective one and that now Safiq himself in on the mend, and will be back in contention soon enough.
"Several parties are making assumptions that I have issues with Safiq Rahim, it is not true at all. Safiq is a good player. But he's now injured and needs to improve on his fitness. No individual knows more about this team than the individual who created Johor Darul Ta'zim FC (JDT). We all know who this individual is."
"If all of you say that I am the one picking the starting line-up all this while, or any coaches who worked at JDT before, you're wrong. At JDT, decisions are made by HRH TMJ as the club owner, the Sports Director, the Technical Director, my assistant and myself.
"This is why many coaches come and go but the team still goes on to win because the team does not rely on just the coaches but also a family sporting spirit and one individual who stands behind all of us. All JDT players know who they are playing for. They are playing for their beloved family, the club and The Boss.
"So, if anyone is questioning why I have not put Safiq Rahim in the team, it is not my decision and I do not need to explain whose decision it is," said Longhi in his statement.
Nazmi Faiz has been the preferred choice under this new JDT regime and the former Selangor man is starting to repay the fatih showed in him with some commendable performances. Which to an extent also justifies not selecting Safiq in the first eleven.
Despite keeping Safiq on the sidelines, it does seem that JDT remained an unstoppable machine with regards to the league. After the latest win over Pahang, they are now a massive 11 points ahead of Perak with only seven rounds of matches left to be played.
Should they remained on course, JDT will retain the Super League title once again and break the four-peat record they managed last year.