Chelsea
Loftus-Cheek's hat-trick heroics spark Lampard comparisons and calls for patience from Cahill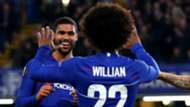 Gary Cahill formed part of Chelsea's back line in a 3-1 victory over BATE in the Europa League on Thursday night, with that contest seeing Ruben Loftus-Cheek record a first professional hat-trick.
The 22-year-old's goal-scoring exploits had Stamford Bridge on its feet as Blues supporters saluted the efforts of a home-grown product who stole the headlines in front of Frank Lampard and Jody Morris.
Two ex-Chelsea stars were on a scouting mission in west London as they prepare to lead Derby County into a Carabao Cup fourth round clash with Maurizio Sarri's side - with Loftus-Cheek's heroics bringing back memories of a time when Lampard was regularly doing likewise for the Blues.
Cahill collected a host of major honours alongside a club legend before he departed the Bridge, and he can see both similarities and differences between Loftus-Cheek and Chelsea's all-time leading goalscorer.
He said: "What Frank did was incredible - churning out 20 goals a season. It was unbelievable.
"Ruben is going to take his own path in his career. He is more than capable of getting goals. He is at his best when you see him in that little pocket of space and he turns and bursts through.
"He is so powerful when he opens up in that area and people can't get near him. He had a fantastic game and was clinical. Instead of creating chance after chance and winning 1-0, it was good to seal the game early on and get the points in the bag.
"It was clear to see we were the stronger team and Ruben revelled in that role. We had a lot of possession and created a lot of chances. He stuck them away and I'm delighted for him. He has had to be patient this season.
"For a young lad to come through the ranks and score a hat-trick at Stamford Bridge, no matter what the game, is a great memory for him. It was a top performance from a top player. We are very strong in that position. It is certainly a very strong area in our team.
"We have so many players who can play there. [Mateo] Kovacic has come in and is a very, very good player. The competition is fierce there like it is all over the team. He is amongst that. All you can do when you have an opportunity is to take it, and he did that."
Sarri admits he has a "problem" fitting in all of his midfield options, having signed Kovacic on loan from Real Madrid to complement the likes of Ross Barkley, N'Golo Kante, Jorginho and Cesc Fabregas.
Like Cahill, Loftus-Cheek has been battling to convince Sarri of his worth, with that proving to be a difficult argument to make with the club still undefeated in all competitions this season.
Loftus-Cheek had meetings in the summer to keep him at the club, with the England international still searching for regular game time. Cahill, meanwhile, has dropped below Antonio Rudiger and David Luiz in the defensive pecking order, although he does not blame Sarri for a lack of squad rotation.
"Of course, when you look back at his history, he doesn't tend to change the team too much," Cahill added at Stamford Bridge. "We haven't lost in the league yet so why would he? Training is one thing, putting it into games is another.
"But in the European games and League Cup match at Liverpool, he has certainly got people that he can rely on. I'm sure he's happy with that."
Chelsea's good form sees them sat third in the Premier League table and perched among a group of five clubs vying for top spot this weekend.
Manchester City and Liverpool are currently two points clear of Chelsea, who themselves are level with Arsenal and Tottenham on 21 points ahead of a clash with Burnley on Sunday. Cahill knows what it takes to secure domestic supremacy and he believes it is too early to say who is really capable of challenging for the title.
"Possibly [a five-team race] but talk to me in January and February," Cahill concluded. "I have been here loads of times and before Christmas you don't see where it is going to go. Arsenal are on an unbelievable run of form at the minute.
"When they lost at our place and already points off the top, people were writing them off. All of a sudden they have been in unbelievable form. That's what can happen. We did it the last time we won the league after losing at Arsenal and at home to Liverpool.
"Then we won 13 games in a row, which is why people should wait until the new year. I think if you are in a good position after Christmas and coming into January, you're up there, you feel like you have a chance. There are loads of games to play until then, a lot can happen.
"It's just a matter of going from one weekend to the next and building momentum. It's great when you go back into training after getting three points. It's the same going into training today after winning last night. It's much better than going in after a loss. That's why I say momentum is key, and we have that right now."