Premier League
Liberty's Arthur argues he's Ghana Premier League best striker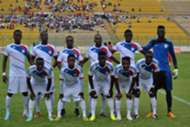 Liberty Professionals striker Bernard Arthur insists no forward in the Ghana Premier League this season can match his qualities.
The 24-year-old has been a top performer for the Accra-based club in their battle to survive relegation, scoring ten goals and providing three assists in 29 games.
"I rate myself as the best striker in Ghana Premier League this season. This is because I don't just score goals but I assist as well. Last season I scored eight goals and this season I have even bettered it," Arthur told Happy FM.
"I will rate myself 9/10 because I suffered a serious injury during mid-season, which took me out of action for a month but since I came back, my performances have been great for my club.
"And when you look at my position on the scorers chart, considering the fact that I was out for that long, I think I'm the best among the lot although others have many goals than I have to my credit. My goals per games are superior to my contenders so I'm way above them in terms of qualities," he added.
Liberty will host Asante Kotoko on final day in a must-win encounter.
"I'm brimming with confidence and I know we will defeat Kotoko and survive the relegation scare on Sunday. We have a solid team which is capable of win against any club.
"It is rather unfortunate that we had some poor results along the way which have brought us to this situation but all is not lost. Kotoko are only five points above us so you can just accept that we're not that bad as some people want to suggest," he added.
Berekum Chelsea star Stephen Sarfo leads the topscorer's chart with 15 goals, two more than Thomas Abbey and Hans Kwofie.