Simba
Lechantre: Winning the Premier League will be a great achievement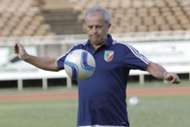 Simba Head Coach, Pierre Lechantre has claimed that winning the Premier League title this season will be a great achievement after the club went five seasons without winning the prestigious title.
Simba were knocked out of the FA Cup and CAF Confederation Cup and the Premier League remains their only chance to win silverware this season.
Speaking to Goal, Lechantre said his first target is to win the Premier League title as he has managed in different clubs he has coached previously.
"To win the Premier League in my first season will be a great feeling and I know that because I managed do so in Tunisia and Morocco" said Lechantre.
Simba currently lead the table with 55 points, eight above Yanga in second after 23 games.