Transfers
Wojciech Szczesny's decision to ditch Arsenal for Juventus backed by club legend Seaman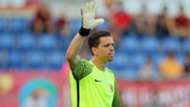 ---
EXCLUSIVE
---
Former Arsenal goalkeeper David Seaman believes Wojciech Szczesny's decision to join Juventus was a good one, but says "it's a shame" to see a player of the 27-year-old's calibre leave the Gunners.
The Poland international completed a move to the Italian champions last week, signing a four-year contract in a deal which could eventually fetch the Gunners around €15 million.
Szczesny's permanent switch to Serie A comes after a two-year loan spell with Roma in which he appeared 81 times for the capital club. 
The arrival of Petr Cech from Chelsea in 2014 saw Szczesny immediately drop down the pecking order at the Emirates and, along with off-field issues, ultimately forced him to find a new club, with David Ospina continuing in the role of second-choice. 
'Arsenal two signings away from title challenge'
The move to Turin marks the end of an 11-year association between Szczesny and Arsenal, and though Seaman - with over 500 appearances and three Premier League titles with the Gunners to his name - believes the move is an important one for Szczesny, he is sad to see him go.
"It's a shame," Seaman told Goal. "I don't like quality goalkeepers like that leaving Arsenal.
"Arsenal obviously have Cech, Ospina is still there, and Emiliano Martinez is coming through who is doing well. I think it's good for Wojciech because it means that he's going to be playing at a big club in Juventus – but there's a certain issue of getting ahead of [Gianluigi] Buffon there!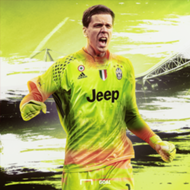 With one of the most decorated goalkeepers in European football in Cech standing in his way, Szczesny's Arsenal departure was inevitable. 
His temporary stay with Roma not only ensured his stock didn't drop - Szczesny played every minute of the last league campaign and kept more clean sheets than any goalkeeper in Serie A - but it also repaired a somewhat tarnished reputation.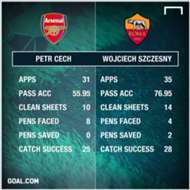 Wenger's decision to loan the Poland goalkeeper to Roma followed an incident in which Szczesny was caught smoking in the shower area after a defeat to Southampton on January 1, 2015 and fined £20,000 by the club.
Asked whether the two years in Rome could have been enough to convince those at Arsenal to invest in Szczesny as the long-term number one at the club, Seaman said: "Not at the moment.
"I don't think there's a place for him – Wenger has two experienced goalkeepers now so if he'd stayed at Arsenal he would've ended up playing reserve team football.
"You can't compare him [Szczesny] to Cech, because he [Cech] has been there and done everything, he's won everything – with Wojciech, he's at an age now where he needs to be playing because it's easy to stay as a number two, then it becomes too easy. You need to be testing yourself.
'Wenger must do whatever it takes to keep Alexis'
"I don't think he would be ahead of Ospina, only because of how Arsene Wenger plays Ospina in all the Champions League games and Cech in the Premier League games.
"For me, though, I don't think it was because of ability, because he's got a lot of it, it was just Arsene prefers those two."
David Seaman is the Brand Ambassador and leads the judging panel for SpottoCash, a spot-the-ball competition for the digital generation. Visit spottocash.com for details.