WTF
'Leave us alone' - Arsenal fans respond to Bayern Munich's teasing Champions League tweet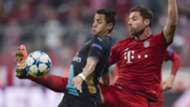 Bayern Munich's US twitter account teased Arsenal by claiming the duo would once again meet in the Champions League knockout stage - prompting a lot of pleading from Gunners fans.
The Bundesliga side knocked out Arsenal in both the 2012-13 and 2013-2014 seasons, with Bayern also beating them 5-1 in the group stage in November 2015.
With Arsenal topping their group and Bayern coming second, they could be set to face off for the fourth time in five years - something Bayern Munich's American account seemed to enjoy.
. @Arsenal @ChampionsLeague Should we just book our travel to London now? pic.twitter.com/qkZvZZLsWQ

— FC Bayern US (@FCBayernUS) December 7, 2016
However, Gunners fans did not share the sentiment, looking to avoid the German giants - with some supporters even begging the 'football Gods' to keep them apart in the knockout stage draw.
@FCBayernUS please daddies, leave us alone this season. pic.twitter.com/qTgNR0Tp6M

— Sumit (@SP1793) December 7, 2016
@FCBayernUS @Arsenal @ChampionsLeague don't you dare

— ArsenalCreator (@ArsenalCreator1) December 7, 2016
@FCBayernUS @Arsenal @ChampionsLeague Don't be unfortunate please pic.twitter.com/2Mf6sD56sQ

— Kaase Imeh (@kdadrian) December 7, 2016
@FCBayernUS @Arsenal @ChampionsLeague pic.twitter.com/MrR6flYJ7D

— RIVÃ (@RIIVA77) December 7, 2016
@FCBayernUS @Arsenal @ChampionsLeague pic.twitter.com/0YHJg2fDpf

— ارسنالي الهوى (@emad_alasmari) December 7, 2016
@FCBayernUS @Arsenal @ChampionsLeague pic.twitter.com/0u0yDceuDX

— محمد الزعبي (@9Aoad) December 7, 2016
@FCBayernUS @Arsenal @ChampionsLeague pic.twitter.com/LXI3Xs2clW

— нαsσσи (@7s88n) December 7, 2016
@FCBayernUS @Arsenal @ChampionsLeague pic.twitter.com/liBIGBrSft

— SOTMH (@KwameGunner) December 7, 2016