A-League
Lack of respect holding VAR back, says Ben Williams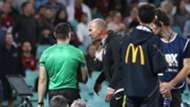 Watching the A-League from afar having hung up his whistle in 2016, former referee Ben Williams believes a continued lack of respect for football officials in Australia is one reason VAR hasn't been well received.
The video referral system has been the centre of continued controversy in the A-League this season with fans and players divided over its use and subsequent calls that are made as a result of it. 
Williams, who officiated at the 2014 World Cup and 2015 Asian Cup, suggested VAR will never be welcomed in Australia due to an ongoing lack of respect for referees. 
"The powers that be can tweak VAR as much as they want. It seems refereeing decisions will be argued about in coffee shops forever," Williams wrote for Players Voice. 
"And for me, the answer is simple. It's something that has been lacking from Australian football for quite some time. Respect.
"People talk about refereeing decisions as if there is a debate to be had. We need to get real about one thing here: refereeing isn't democratic.
"I don't know whether it's a part of our Aussie culture that goes back to the colonial days or what, but we struggle to show respect for people in authority. It doesn't matter if we're talking about a police officer, or in my case a qualified teacher and referee. Respect just isn't there as a given.
"When it comes to respect for referees, I can tell you that Australia is worse than many of those countries I have visited."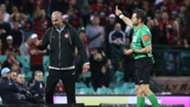 Williams' comments come just weeks after Western Sydney Wanderers coach Markus Babbel was sent off for his angry reaction to a disallowed goal in the Sydney derby.
Since that dramatic weekend which saw the VAR make a number of headlines, the system has been used less frequently in the A-League.
VAR aside, Williams stressed greater respect for officials is vital with the latest generation of referees now coming through.
"The younger officials just starting out now are the people I feel really bad for in all this," he wrote. 
"All those young boys and girls who will give up their lives for football, to go out there and do what they love, with the dream of representing Australia on the international stage one day.
"As it stands, they won't receive the gratitude or respect they deserve for the sacrifices they make for the game. All they'll get is criticism and anger for the small number of mistakes that are inevitable for any referee finding their feet at the elite level."