Selangor v Kuala Lumpur
KL's reluctance to kill the game and use up substitutions explained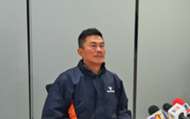 ---
BY        ZULHILMI ZAINAL       Follow on Twitter
---
Despite having come back from a 3-0 first leg quarter-final FA Cup defeat to Selangor to lead the return fixture 3-0 in the second half on Saturday, Kuala Lumpur (KL) seemed reluctant to kill the game by scoring their fourth of the night.
The Hawks instead took their foot off the gas and decided against using their remaining two substitutions in the remainder of the match, and was edged by the hosts 8-7 in the ensuing penalty shootout.
But according to assistant head coach Yee Fatt Chong, who took over in the match and in the post-match press conference from the suspended head coach Fabio Maciel, this decision was intentional.
He first remarked that they were not too disappointed by the defeat, as penalty shootouts are a matter of luck.
"We did our best and cannot ask for more. Penalty shootouts are like playing the jackpot. Our very young goalkeeper Khatul [Anuar] did a fantastic job.
"We're a bit upset and frustrated with the result. We had prepared well for the match; to get an early goal, and things then went according to plan except for the goal that would have killed the game," said the former Perak assistant coach.
When asked by Goal about their letting up of the pressure after levelling the score, Yee answered that it was not done intentionally. Instead it was simply a matter of his players experiencing fatigue.
And when inquired about the decision to not make further player changes in the match, he responded that it was done in order to preserve the dynamics that have been working for them. KL made only one player change throughout the 120 minutes; bringing on Hafiz Johar for Ashri Chuchu in the 78th minute.
"We weren't intentionally trying to take the game to the penalties," Yee noted. "A lot of our players were getting tired and injured, so we had to concentrate on defending more.
"I believed in the players on the pitch and did not want to disrupt the rhythm. When the coaching staff asked the players about their conditions, everyone flashed a thumbs up sign. We had the momentum and did not want to break that."
The goals in the match that was held at the Kuala Lumpur Football Stadium were scored by Zaquan Adha Abdul Radzak (15'), Paulo Josue (45+2') and Syazwan Andik Ishak (54').
Selangor vs Kuala Lumpur match highlights