PSL
Komphela explains why Paez doesn't start for Kaizer Chiefs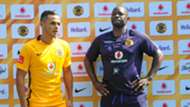 Kaizer Chiefs coach Steve Komphela has explained in detail why striker Gustavo Paez starts from the bench.
"I think you will have to look at it from a (Bernard) Parker point of view. Parker works extremely hard and he also helps you by fighting for the ball in the air," Komphela said.
The Chiefs gaffer was speaking after his side were held to a 2-2 draw by SuperSport United in a PSL match on Saturday night.
"Paez is more of a runner. You can play both of them, but then that means you have to compromise Shabba (Siphiwe Tshabalala). This is the beauty of having a squad that has talent," he continued.
"Whoever starts must take the advantage and whoever comes in must make the difference. (William) Twala goes in he makes a big difference.
"Eddie (Edmore Chirambadare) starts he gives you a lot of energy and helps you. You still have Keegan Buchanan what more can you ask for? You can only play 11," Komphela stressed.
"So the substitutes you make, the starts you make must be based on the fact that whoever comes in must take the game to the next level," he concluded.