Transfers
Klavan: I never wanted to leave Liverpool - then Cagliari came along!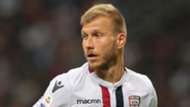 Former Liverpool defender Ragnar Klavan has revealed that he never wanted to leave Anfield until Cagliari made him an offer he could not refuse.
Klavan, 33, joined the Reds from Augsburg in 2016 and went on to make 53 appearances in all competitions for the club.
The defender was a bit-part player under Jurgen Klopp and has revealed he rejected a number of offers to leave, initially wanting to remain on Merseyside.
However, Klavan says the opportunity to move to Cagliari and Serie A was too good to turn down in the summer.
In an exclusive interview with Goal, he said: "I honestly did not intend to leave Liverpool.
"I had received several offers from other European clubs, but it was not my intention to change clubs.
"But then Cagliari's offer came and I had little doubt. I could measure myself in an important league like Serie A, which is a bit like the university of tactics."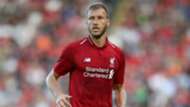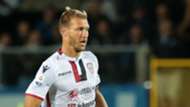 Klavan is the latest man to switch from Liverpool to Italy with Luis Alberto and Lucas Leiva having swapped the Kop for Lazio in recent years.
And the centre-back says he consulted both Lucas and Mohamed Salah, who played for Fiorentina and Roma before joining Liverpool, prior to accepting Cagliari's offer.
He continued: "I spoke with Lucas Leiva and Mo Salah about this opportunity, my former team-mates at Liverpool, and they both described the championship as very interesting and competitive.
"In addition, here you live very well, the Italian lifestyle is fantastic and you eat very well! Injury aside I must say that these first few months have been wonderful."
Cagliari have made a good start to the new campaign, sitting 12th in the table, but face a difficult challenge when they travel to Juventus on Saturday.
The Bianconeri are incredible form, having won nine of their opening 10 league matches, and Cristiano Ronaldo has impressed since swapping Real Madrid for Turin in the summer.
Stopping Ronaldo and Juventus will be a difficult task but Klavan says it is possible if Cagliari defend well as a team.
He added: "It would be wrong to focus all the attention on Ronaldo, because Juventus has so many champions that it is a risk to stop just him.
"But I think we can stop Ronaldo and whoever will play in attack with him, but only if we manage to play as a team."