Kerala Blasters
Kerala Blasters CEO Varun Tripuraneni explains decision to sack Rene Meulensteen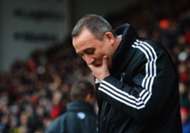 Kerala Blasters kicked off their season with goalless draws at home and by the end of December, the Yellow Army had registered just one win in seven matches under Rene Meulensteen. They were still in the race for top four when the club management decided to sack the former Manchester United coach midway through the season.
The club roped in former player-manager David James to replace Meulensteen and later tied him down to a three-year contract following improved display on the field. With a disappointing league season done and dusted, club CEO Varun Tripuraneni has revealed why the decision to sack the head coach had to be made soon after the defeat to Bengaluru on New Year's Eve.
"We appointed Rene as the manager at the start of the season with all the right intentions. We felt we made a good choice. We had several discussions with him previously as well. He understood all about Kerala Blasters, the fanbase and the ISL. Unfortunately, things did not go too well at the start. 
"We started with a number of draws which was not too bad, it kept us in the hunt. There were a lot of 0-0 draws which upset the fans that we weren't playing an attacking brand of football. 
"Sometime towards the end of December is when we felt that there was an opportunity to make a change, the timing should be important. I have been involved in similar situations in the past. In the first season, we were off to a slow start and with Chennaiyin in the second season, we were near the bottom of the table after 50 percent of games. But I felt that was completely different to what happened with Rene.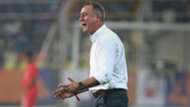 "In the first two years, there was still a positive energy in the camp. This year, that positive energy was not there. With that being the scenario, it is best to make a change at that point in time."
Kerala Blasters ended the league season outside the top four but they were still in the race for qualification until the final few rounds of fixtures. A few weeks after he was sacked, coach Rene Meulensteen had hit out at his former employers and directed scathing criticism at club skipper Sandesh Jhingan. 
Reacting to Rene's claims of an unfair sacking, Varun said, "We felt that there was not much confidence within the camp. That is one of the major reasons why we had to make the change. We had to do it then and there, we didn't really have the time. The players knew that mathematically, we were still in the race. I am happy that we could take a decision which is not very easy. 
"It is quite unfortunate for a person of his stature to make such statements against the club. I can assure you that right from player recruitment, pre-season, the way the entire camp was organized, logistics was all done in the best possible manner. This is the operational team that has been working for Blasters since year one. I was surprised to hear such statements from him."
Further, defending club skipper Sandesh Jhingan, Varun said, "From Kerala Blasters' point of view, Sandesh is our captain. He has been a good performer from season one, he has grown over the years. His performances for Blasters got him a national team call-up initially. He has also led the national team. All I had to do was ignore Rene's comments and make sure the players are still positive about it and only had to focus on the matches ahead."
Soon after the league season came to an end, star signing Dimitar Berbatov packed his bags and left India after scoring just one goal in nine appearances for Kerala Blasters. He had posted a jibe at coach David James regarding his tactics on Instagram. Varun Tripuraneni said the striker's Instagram post hurt the sentiments of the backroom staff who took care of him while he was at the club.
"I saw his post at about 4:30 in the morning, I was half asleep. So when he said, 'worst wannabe coach', I thought he was talking about himself!
"So I didn't take that post too seriously and later when I realized that he was hinting at something else, I just felt it was really unfortunate. It made a lot of support staff feel really bad because of the way they took care and treated Berbatov, right from the time he joined the team in Spain.
"We knew the stature of the clubs he played for and all the players had that respect for him. To leave that way, was really really unfortunate. David showed top-most respect for him and handled it really well. He was going back after his first stint in India and there were a lot more good memories to post about rather than this."