Kelantan
Piya still uncertain over future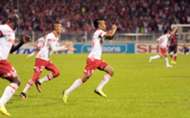 The midfielder has already spent 10 seasons with Kelantan but was left in a huff recently after the management of the club decided that he will no longer feature in their plans for the immediate seasons.
President of Kelantan Football Association (KAFA) Bibi Ramjani Ilias Khan has come out and state that Badhri who is also commonly referred to as Piya, is available for a transfer is any team is willing to take him on.
At 35 years of age, it remains a big gamble for other teams to take a punt on the once Kelantan captain. While the legs may have gone a bit, Piya's eyes for the final pass could still be a great asset for any team.
"Of course it is something worrying. It's been a week but there's still no concrete team interested in me. I've contacted a coach to offer my services and he has promised to give me an answer, but up until today, I'm still kept in the dark."
"If this situation continues, I have no choice but to continue to stay with Kelantan even though they have already made it clear that I'm not part of the squad and is not allowed to train with them," said Piya to Berita Harian.
Kelantan under the helm of Fajer Ibrahim as the head coach has stated categorically that a number of senior players are available to seek transfer away from the club. Piya was joined on the list of discarded by the likes of Khairul Fahmi Che Mat, Norfarhan Muhammad and Amiridzwan Taj.
While Khairul Fahmi has already secured himself a new adventure with Melaka United, the situation with Piya remains in the dark. He will have until June 3 to find a new team or risk spending the rest of the season in the doldrums.