Kaizer Chiefs
Katsande makes U-turn on retirement from international football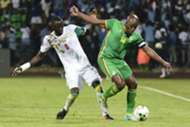 Zimbabwe captain and Kaizer Chiefs midfielder Willard Katsande has reversed his decision to retire from international football.

On Monday night, Katsande told Goal that he will no longer be available to represent Zimbabwe following their exit from the 2017 Africa Cup of Nations (Afcon) finals in Gabon.

This was after the 31-year-old and his Warriors teammates were beaten 4-2 by Tunisia in their final Group B game.

Katsande has since informed Zimbabwean publication, News Day, that he is yet to retire from international football.

"I have read reports that I have quit international football, but somebody decided to put words into my mouth," Katsande said.

"I still need to go back and sit down and have a debrief. I also need to consult a few people before I make any decision," he stressed.

"What is important is to see how I can help the younger players grow into the national team and take over. I think we still need to rub on to the next group of players the experience that we have gained from this Afcon final," he continued.

"Zimbabwe needs to be a regular at these finals and we need to be a dominant force. With this in mind, I will have to consult on how I can help before I make any decision," he insisted.

"Having played for the Warriors since 2009, I have gained a lot of experience. So when I decide to step down there needs to be some form of continuity," Katsande added.

The hard-tackling Zimbabwean player hopes that they can use the experience gained from this year's AFCON finals to qualify for the next tournament in 2019.

"I think, here, we learnt a lot and it's disappointing that the journey ended early. We would have wanted to go further, but we failed to manage the games in crucial periods," he said.

"The focus now should be on how we go on to qualify for the next edition, which will be held in Cameroon. I think if we qualify, we will go there a better team," Katsande concluded.