Kagera Sugar
Kaseja: Players have let down Kagera Sugar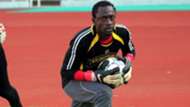 Kagera Sugar goalkeeper Juma Kaseja has criticized his teammates for the bad results the team has received in the Tanzania Premier League this season.
Speaking to Goal Kaseja, said some of players have not fought enough for the team and that is why they have failed to get good results.
"Some of players do not fight for the team, last season we did better, we finished third, our coach has tried to introduce new techniques but nothing still nothing has changed," said Kaseja.
Kagera currently sit 12th in the league with 21 points from 22 games, they need to win at least four games to stay in in the League next season.