Loris Karius
'I know about three people at the club' – Karius on Man City's 'really fast' progress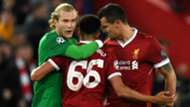 Liverpool goalkeeper Loris Karius has explained that Manchester City have changed dramatically since his days at the club.
The German shot-stopper spent a couple of years in the youth ranks of the Etihad side from 2009-11 before moving back to Germany.
Since then, he has turned out for Mainz and, now 24, finds himself on the books of Liverpool, with whom he helped to inflict a 3-0 defeat upon City in the quarter-finals of the Champions League last week.
He has revealed, however, that he has little emotional attachment to his former side.
"It is nice to play in that stadium where you were for a couple of years and didn't get a first-team appearance – at least I get to play now," he said. 
"I am happy I am a Liverpool player and that's about it. There are no special feelings towards it, no anger.
"I am just happy I am playing in a Champions League quarter-final: it's a dream and I'm living it with Liverpool. It is perfect for me and it will be nice to go back there.
"I know about three people at Manchester City: the kit man, two physios and Brian Kidd, that's about it. The club moved forward really fast and then Pep Guardiola has changed a lot. It is going really well there but it is not for me to judge, just focus on Tuesday, but they have played a really good season."
Indeed, such is the quality of Guardiola's side, he remains wary of a turnaround in the quarter-final tie in the second leg, despite a scintillating display last week at Anfield.
"Obviously it was a great game from us. You never know what to expect, we were just trying to play our best game," he told Liverpool's official website.
"That's what we did and got a really good result. The fans were great, pushing us on the whole time.
"But it's not the time to celebrate yet because, like you could see at Anfield, it could go in one direction really quickly, so we need to be switched on in the second game to avoid that and go through."