Kaizer Chiefs
Kaizer Chiefs lose appeal to have stadium ban overturned
South Africa Chief Editor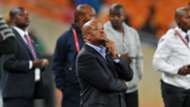 The South African Football Association (Safa) has dismissed Kaizer Chiefs' appeal to play two games behind closed doors. 
Amakhosi were found guilty after their fans vandalised property at the Moses Mabhida Stadium in April 2018.
The Soweto giants had filed an application to appeal the ruling by the PSL Disciplinary Committee even though they had already played Polokwane City without their fans at the same venue.   
"The South African Football Association (SAFA) Appeal Committee has dismissed the appeal by Kaizer Chiefs FC to have the sanction by the PSL Disciplinary Committee in respect of the Moses Mabhida incident on 21 April 2018 reduced," the PSL confirmed in a statement on Friday.
"The Premier Soccer League Disciplinary Committee found Kaizer Chiefs guilty and ordered that they must play three matches behind closed doors in KZN with the implementation of one (of the three matches) match suspended for a period of 24 months provided Kaizer Chiefs is not found guilty of a similar offence. 
"Kaizer Chiefs has already played one of the two matches behind closed doors in the Moses Mabhida Stadium against Polokwane City on 06 October 2018. 
"Having considered submissions by both the Member Club as well as the PSL, the Appeal Committee noted that the unacceptable behaviour by Kaizer Chiefs supporters on the day was indeed extreme and warranted the sanction imposed by the PSL Disciplinary Committee. Kaizer Chiefs FC were ordered to pay the costs of the appeal," concluded the statement.
The rejection of the appeal means Chiefs will again return Durban one more time to play one of their home games without their fans. 
When the PSL DC ruled on the matter, it decided that the two games be taken to Durban because that's where the incident took place.  
The club is yet to decide to which match will be played behind closed doors.