Kaizer Chiefs
Kaizer Chiefs assess Cameroonian striker Julien Ebah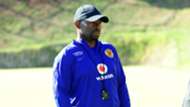 Kaizer Chiefs appear to have renewed their interest in Cameroonian striker Julien Ebah. 
The 26-year-old has reportedly began his trial with Amakhosi, who are desperate to sign a quality striker this season. 
Chiefs previously showed interest in Ebah at the end of last season, but the frontman decided to try his luck in Cyprus instead. 
However, the Soweto giants came knocking and invited him over after things failed to materialized in Cyprus. 
Ebah was last on the books of  Azerbaijani outfit Kapaz PFK where he scored 15 goals in 56 appearances between 2015 and 2017.
Prior to that, he played for Cameroonian club New Star FC, scoring 16 times in 30 official appearances. 
Ebah has also won four international caps with Cameroon, with a single goal under his belt. 
Chiefs have two foreign spots available to them, and Steve Komphela has already indicated that the club intends to fill them with proven goalscorers this season.