Joleon Lescott
Lescott: Singapore players can make it in Europe if they have dedication, ability and luck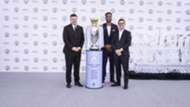 At the peak of his playing career Joleon Lescott played for one of the biggest clubs in the Premier League in the form of Manchester City.  The centre-back was known for his performances in the heart of the City defence as they clinched their first ever Premier League title in 44 years in 2012. Thus the answer was not surprising when he was asked by Goal.com on what was the most memorable moment in his career.
"Winning the first title with City. I look back and there were some great players who have not managed to achieve that."
"Although I had hoped we could have won it earlier and not wait for (Sergio) Aguero to score in the dying seconds. But overall it was a surreal moment and a great occasion to be part of."
"But overall the highlight was playing at City. Winning trophies and playing with a group of gifted footballers. Again, this is something I never thought I would be able to do but to do it was fantastic."
Despite the high-level accolades he has achieved as a footballer, speaking to Lescott feels like you are speaking to an ordinary person and not a superstar. As a defender he came up against great attackers in the Premier League and was humble enough to reveal to us the one player who made his life difficult.
"I found it the toughest earlier in my career when I came up against Louis Saha when he was at Fulham and I was at Wolverhampton Wanderers," recounted the soft-spoken 36 –year- old.
"What a player he was and someone I looked up to. Also I felt blessed as I was able to play with him in the later part of my career."
Staying on the subject of the Premeir League, Goal.com then quizzed him on what makes the league have such a massive following compared to the other top European leagues.
"I just think that any expected time, anyone can beat anyone. I know City dominated last season but this is a league where any team can pop up and can make a serious bid for the title."
And it is particularly due to that massive following which has seen more European teams especially English ones land on the shores of Asian countries such as Singapore. As the International Champions Cup takes place later this July in Singapore featuring Arsenal, Lescott foresees Manchester City following a similar path.
"I have been in Singapore before and the passion is ridiculous. Obviously there are many followers of the league in Asia and teams that come here get massive support."
"So I believe not just City but more English teams will love to come to Asian countries such as Singapore."
Staying on Singapore, Goal.com decided to get the Englishman to impart some advice on local footballers who are keen on plying their trade in Europe.
"Dedication is key here and obviously ability. Obviously you need a certain amount of ability. So with regards to the question, a player must put in hard work and commit themselves fully."
"It's a lot of what goes on behind the scenes that determines if a player succeeds or not. Also, a little bit of luck is needed."
Subsequently, we managed to squeeze in his thoughts on the raging national debate of whether it should be a local or foreign coach for the Singapore national team. Especially as England had a similar issue before where it saw the likes of foreign coach Fabio Capello leading them, and now a local coach in the form of Gareth Southgate.
"Obviously Southgate has done exceptionally well at the World Cup. And I think the fact that he's worked with these players before helps."
"Yes he is English but it does not necessarily have to be local. In my opinion it's about the best man for the job," explained the former defender.
"Importantly it's about whoever comes in is able to build a team that resonates cohesion. Someone who can get them working as a team and not as individuals."
"If you look at England in the past, there were cleavages in the squad and players did not look eye to eye. In Gareth's case he has discarded all those divisions and has gotten players to gel."
"So the discussion shouldn't be narrowed down to local or foreign. But should be about who is the right man with the right qualities."
Conversely, since retiring the 35-year-old has not gone into coaching like so many of his peers but instead has taken up a role at the Etihad
"I am helping mentor the players that are on loan from Manchester City. We do have numerous top players at the club who are out on loan."
"Basically I am helping them carve out a career in football. Not necessarily at City but just prepare them in the cases if they do get into the first team at City or somewhere else."
Lastly,we questioned him about his England career especially on making his debut for his country and how proud he has been of the Three Lions in the World Cup.
"Again it was something I didn't think that would happen but I felt honoured to represent my country."
"And to score my first goal against France in Euro 2012 that was something beautiful to experience."
"Irregardless of whether it comes home or not. England has exceeded expectations and the whole nation like me has been proud of the boys. This is a blueprint for us to strive for greater success."