Africa U17 Cup of Nations
John Obuh: Nigeria U17 learning after conceding too many goals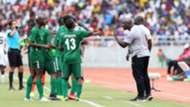 John Obuh has urged Nigeria U17 coach Manu Garba to give his team confidence ahead of their Africa Cup of Nations semi-final game against Guinea on Wednesday.
The Golden Eaglets progressed to the last four of the competition after defeating host nation Tanzania 5-4 in their opening game.
The team went on to pip Angola 1-0 before playing to a 1-1 stalemate against Uganda. With these results they emerged as Group A leaders with seven points.
The former Nigeria U17 and U20 coach Obuh has shared his advice for 53-year-old gaffer Garba.
"I am quite certain they will do well against Guinea. The way they started is quite different from the way they have continued in the competition," Obuh told Goal.
"Yes, they have conceded a number of goals but the most important thing is that they are making progress. If they don't concede goals we will not know whether the defence is good or the goalkeeper is good and if they don't score we will not know if the strikers are doing well or if the team can score.
"It is better they are scoring and conceding so that they will be able to know their strengths and weaknesses.
"They have improved so well and I believe they will do well [against Guinea]. We have to give them the support they need."
Obuh is also pleased with the performance of the Nigeria coach in the U17 Afcon.
"I am very impressed with Manu Garba. He's been very well. My advice for him is that he should continue to give his team confidence," he added.
"He should not allow the pressure of the country to be on him because if he allows pressure then he might make a lot of mistakes.
"Let him continue doing what he thinks is good for the team because he is with the team and seeing the players. He knows the team better than any of us so, he should just continue that way and avoid any external distraction."
Mali are the reigning champions of the tournament after defeating Ghana in Gabon two years ago.