Premier League
Jesus & Kompany will offer glimpse of what might have been for Guardiola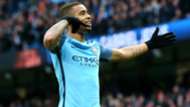 ---
COMMENT
---
Pep Guardiola has tended not to get too personal when it comes to his various regrets from his first season at Manchester City.
His biggest lament has been that the Blues have "not been good enough in the boxes", so clearly he does not mind pointing out when the whole team has failed. When it comes to individuals, though, the shutters have come down.
For all the public backing of Claudio Bravo (and it has been genuine when it comes to the keeper's footwork), there is disappointment behind the scenes that he has had so many struggles. The poor efforts and waning attitude of Nolito have not gone down well, either.
Toure taunts Mourinho's United
And then there have been the long-term injuries which have robbed Guardiola of quality players for much of the season. Vincent Kompany is back in the team and showing how much he has been missed, while Ilkay Gundogan would have been an extremely handy option to have, in recent weeks especially.
But Guardiola has been reluctant to discuss whether his debut season in English football would have been different with those two available. Asked about the difference Kompany would have made, the City boss sidestepped the issue impressively. "It was good news for Fabian Delph as well," he said after both players were surprisingly recalled at Chelsea earlier this month. He later added: "Of course, Kompany would compete with Nico [Otamendi], [Aleksandar] Kolarov, the other ones."
And Gundogan? "We had other alternatives with Yaya [Toure], or in the last game Fabian. I think in the middle we didn't have a lot of problems because we could use Fernando or other ones."
Not that Guardiola is doing those players a disservice. He did praise both of them, but he would not get into how much they have been missed. That is the point: he has been careful not to say he's missed one player as it be construed that "the other ones" aren't good enough.
But there is an exception.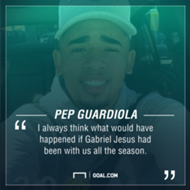 "I always think what would have happened if Gabriel Jesus had been with us all the season," Guardiola said, candidly, following Thursday's Manchester derby.
"We didn't buy another striker, he could not come before January so we missed four or five months without him.
"When he arrived, his impact was amazing in the team."
Jesus did enough in the derby to show that he can replicate that impact. Like on his debut against Spurs, he came on late against United and instinctively got himself into areas that others can only expect after years of practice. In both cameos he made things happen and had a goal disallowed, and there is nothing to suggest he won't pick up where he left off pre-injury if he features against Middlesbrough on Sunday.
His return will have other implications, of course. It is telling that Guardiola is comfortable talking about Jesus' absence, whereas he has stressed Gundogan and Kompany's replacements have been more than good enough to cope.
Kelechi Iheanacho, certainly, must feel like he'll have to find a new club this summer. It is clear the Nigerian youngster, who has not even made the bench when Jesus has been available, cannot do what the Brazilian can.
Man City team news for Boro clash
And then there's Aguero himself. He was relegated to the bench and was clearly not happy about it, but Jesus' injury immediately diffused a tense situation. City have publicly insisted the Argentine will not be going anywhere this summer but privately they are not so certain, even if a complete change in attitude has been noted around the training ground.
Guardiola says the two can play together, even if it means a change in style, and given how Aguero has reacted in Jesus' absence, scoring 12 in 14 and improving his link-up play, it will be interesting to see what the City boss decides to do.

Whatever happens and whatever the long-term implications, Jesus' return, coupled with Kompany's presence at the back, should ensure City end a disappointing season with something of a flourish.
"I felt what happened with him and Sergio, I'm pretty sure these kind of chances we had would have been a little bit different," Guardiola added after the derby, discussing Aguero's cross for Jesus' offside header.
"But it is what it is."
It is what it is, but Thursday night offered a glimpse of what it could have been. In less than 10 minutes on the pitch Jesus showed his knack for making things happen, and he looks certain to inject some much-needed energy into a side that have felt hard done by in recent weeks.
And Kompany has already showed plenty of signs that he can make up for a number of ills at the back. While United did not exactly provide a stern examination of the City defence, the Belgian was excellent when called upon and Otamendi has put in his best performances for the club with the captain alongside him. Both stood up to United's threat on the break, the type of one-on-one duels which cost City so dearly this season, particularly during Guardiola's 3-4-3 experiment at the back end of 2016.
There are issues which simply cannot be fixed in the next month, and perhaps not even in the transfer market, but the presence of Kompany at the back and Jesus up front will offer a glimpse of how the season may have played out in different circumstances.
It is tempting to suggest City's problems in the boxes could soon be solved, if only temporarily.