KV Oostende
Jali applauded by KV Oostende coach for making the team tick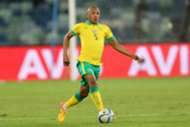 The current Bafana Bafana international and former Orlando Pirates man Andile Jali is grateful for the opportunity to play for KV Oostende again after making his first start in three months over the weekend.
The central midfielder had a great game for Oostende during their 1-0 Belgian Pro League win over Waasland-Beveren on Saturday.
"It was an eternity ago (since he last played) and I had to get used to the rhythm. I must admit that I was absolutely shattered after the final whistle," Jali told reporters.
"I want to speak with my feet in the coming weeks," he continued.
Jali made it known that he wanted to leave the club prior to the current season, but he has since cleared the air with Oostende coach Yves Vanderhaeghe.
Vanderhaeghe praised Jali for his quality and he added that the midfielder is one of the reasons why they played better against Waasland-Beveren.
"He has deserved this opportunity. My team was looking for a way to play better football. Andile is one of the reasons why we are playing better again," Vanderhaeghe concluded.
Jali and his Ooostende teammates were beaten 2-1 by Sporting Charleroi in league game played on Tuesday. The Bafana player was substituted in the 79th minute.