Borussia Dortmund
The Gamechangers: Jadon Sancho's UEFA Champions League campaign so far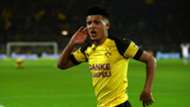 Borussia Dortmund are enjoying a terrific season this time around. Not only are they leading the Bundesliga, they are also in form in the Champions League. 
They topped a group that contained the likes of Atletico Madrid, Club Brugge and AS Monaco. They are now set to take on Tottenham Hotspur in the Round of 16. 
One man who will be on the spotlight for this game will be Dortmund's young winger Jadon Sancho who has been a revelation this season. 
The Englishman has made five appearances for the German side in the competition and has scored a goal in addition to providing an assist. 
However, his pace and attacking nous have amplified Dortmund's attacking threat. Significantly, he became the youngest English player to score a Champions League goal for a foreign club in the process. 
Watch all his best plays in Europe so far here.