Transfers
'I've got a lot of offers' - Bolt to decide on football career by the end of November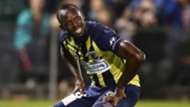 Usain Bolt revealed he may give up on his dream of becoming a professional footballer despite having "a lot of offers" and that he will make a decision on his future by the end of November. 
The eight-time Olympic champion, 32, was unable to agree to a deal with the Central Coast Mariners after a trial with the A-League club.
Bolt has now given himself until the end of the month to make a decision, and while the sprinting great said he had options, he also made clear that he is considering putting an end to his dreams of a football career. 
"With the Central Coast, we couldn't work out the contract stuff so that's dead, but I've got a lot of offers from other clubs out there," he said on Wednesday.
"Now we're just trying to figure out what [to do].
"We'll make a decision before the end of November if I'm going to go to another club or call it actually quits."
Bolt scored twice for the Mariners during a friendly in October, but the parties were unable to agree to a deal despite the Jamaican's management team confirming that the A-League club had made an offer. 
The former sprinter has been looking to make a career in football since he retired from athletics following the 2017 World Championships in London.
Bolt has previously trialled with teams in Germany, Norway and South Africa without landing a professional deal.
However, he did appear to turn some heads in Australia, as while on trial, he was offered a contract with Maltese side Valletta, which he turned down.
In addition, the president of the Jamaica FA said should Bolt show further development of his footballing abilities, he could be in line for an international call-up.
Despite the offer of a deal, reports claimed that Bolt and his team were looking for something in the region of £1.6m ($2.1m) to sign for the Mariners, a massive sum by A-League standards. 
Even earlier this month Bolt was assuring that he would carry on in his search for another chance at making his footballing dream a reality, though that optimism seems to have wavered some with the admission that he could put a stop to his search for a club.