Real Madrid
'It's the duty of all of us to protect him' - Madrid boss Solari defends Ramos over doping claims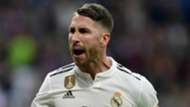 Real Madrid head coach Santiago Solari has declared it "everyone's duty to protect" Sergio Ramos, in light of allegations against the defender he believes are questionable.
German publication Der Spiegel claimed in documents obtained by Football Leaks that Ramos had violated the sport's anti-doping protocol on two occasions.
Ramos was alleged to have tested positive for a banned substance following the 2017 Champions League final, and then to have showered without permission prior to providing a urine sample to an anti-doping official in April 2018.
The defender and the club have denied any wrongdoing occurred, with Ramos releasing a statement offering explanations for the incidents.
Solari continued that defence Ramos on Monday, praising the defender as "a symbol of football" and saying he must be protected.
The manager also questioned the validity of the reports, and claimed the facts are something which is not open for debate.
"[Ramos] is an honest man and a symbol of football, Real Madrid and Spanish sport," Solari told reporters ahead of his side's Champions League clash against Roma.
"It is the duty of all of us to protect him, from the media too.
"Journalists should seek the truth and they also have their opinions, but the truth is not open to opinion and even less so when a player's name is being tainted.
"When that happens we lose our way and society is left helpless. It affects us all."
Madrid enter the match off a heavy 3-0 shock defeat to Eibar in La Liga, which was Solari's first setback since taking over for Julen Lopetegui.
Mired in sixth place in La Liga, they will look to lock up a spot in the Champions League knockout stages when they face Roma on Tuesday.