NPFL
'It is just the beginning' - Eguma reflects on Rivers United's first away win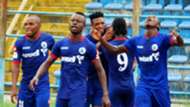 Rivers United head coach Stanley Eguma said his side's 1-0 victory over Kwara United at the Kwara Stadium was 'just the beginning' in their thirst to pick more points this season.
Osita Chikere's stunning header at the death against hard-fighting Harmony Warriors gave the Pride of Rivers their first away win of the season in Ilorin on Sunday.
And elated Eguma credited his side's determination and character displayed for their epic away triumph, but he insists they still have a lot to do in their quest for glory this term.
"Actually, we went to Ilorin, well prepared. We knew that it was going to be a tough game because Kwara United have improved a lot after they came back from a 3-3 draw away in Lafia," Eguma told Goal.
"We knew that they will come out to attack us, so we prepared so well to contain their forays. We started well but we lost so many chances and all our efforts in the first half did not yield result.
"Our opponents took charge of the game in the second half because I think some of my players lost steam and they were putting so much pressure on us and it never allowed us played compactly as we did in the first half.
"When it was becoming too much because if we keep soaking pressure, it could result in a goal against us, then I had to bring in a player that could take them on. I decided to make the tactical decision by introducing Malachy because he could offer some threat on the counter-attack.
"When he [substitute Malachy] raced down the flank, he provided us the cross which paid off as we got the winning goal through him. I must commend our opponents because they really did well and gave us a good fight.
"But I must praise the resilience of my defenders and character of my players, even our goalkeeper Rotimi was at his best. I just hope this victory can spur the team because I know we have not really arrived yet.
"It just the beginning as this is not yet time for celebration because we really have a lot to do to challenge at the top. I hope the team will continue to gel and improve with every game this season. I am very happy and I think we really did well against Kwara and deserve to win."
Rivers United are sixth on the table with 16 points from 10 games and will face Ifeanyi Ubah in their next league encounter at the Yakubu Gowon Stadium on Sunday.