Indian Super League
Young central defender Mohammad Sajid Dhot - Delhi Dynamos is a great place to be right now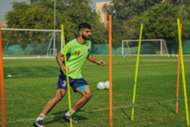 It might not have been a campaign to remember for the Delhi Dynamos in the recently concluded Indian Super League (ISL), but it was one which certainly ended with a lot of promise for the future.
That promise comes from having a young core of Indian players who have featured heavily in the plans of head coach Miguel Angel Portugal. It includes the likes of Lallianzuala Chhangte, Vinit Rai, Nandhakumar Sekar and Mohammad Sajid Dhot.
Those names include three 20-year-olds with Nandhakumar being the eldest of the bunch at 22 years.
Of them, Mohammad Sajid made seven appearances in defence over the course of the ISL campaign. The Punjab-born centre-back was plying his trade with DSK Shivajians in the I-League last year before being picked up by the Dynamos in the ISL Players' draft.
In a chat with Goal, Sajid is clear as to why it was the best move for him as he says, "It is a great step up to come from the I-League to the ISL because the competition level in this league is a lot. I am delighted because I think I am lucky that I got signed by the right club who were willing to give me chances and not use me as a fringe player. Dynamos believed in me and that is one of the reasons they offered me a long-term contract."
"From the training sessions where I had the chance to work under a coach who made me a better player today to players like (Kalu) Uche, (Gabriel) Cichero, Pritam (Kotal) and the rest who were like a family and helped me so much right from the pre-season till the last match.
"I am still in touch with these players. I had the opportunity of playing against some of the best players who have played in Europe like (Robbie) Keane, Wes Brown, (Dimitar) Berbatov and it feels great because I had only watched them on TV all this while," he adds as he talks about the experiences from his maiden ISL season.
While he did make seven appearances over the season, the central defender is still ruing the injury that he suffered in the early part of the season.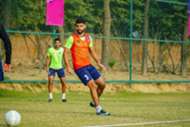 "If it was not for the injury earlier in the season, I feel I could have proved my worth a lot earlier. I am happy that I got 7 matches but I want to play as much as I can. But when things are not in your hands, like injuries, then it gets really upsetting. My aim is to play as much as I can and improve it as much as I can," Sajid explains.
Still only 20, the former All Inida Football Federation (AIFF) Elite Academy graduate exudes a sense of maturity as he justifies why the Dynamos are the club to be right now for any young Indian player.
"The owners had the idea that they wanted to build a squad for the long term and I feel all the players who are in this team with a long term contract agree to the idea that the management has. It is very important to have a strong core. You can't keep making a new 23-man squad every season because then that will take time to adjust and the team won't do well. Delhi has this good ideology and the best thing is that the squad selection was not based on age but on merit," the defender says.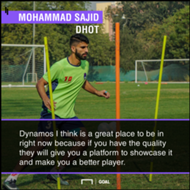 "Whoever played well got his chance in the team be it me, Nandha (Nandhakumar), Jayananda (Moirangthem) or any other young player in this side. I think Dynamos is a great place to be in right now because if you have the quality they will give you a platform to showcase it and make you a better player."
A youngster who has trained at the IMG Academy in the USA for a year, Sajid feels that last year's FIFA U-17 World Cup has changed the youth football landscape for the better in the country.
"Things have changed a lot now for the youth players in India, more so after the U17 World Cup. World Cup coming in brought a whole lot of exposure to the youth side of Indian football because before that the focus was mostly on the senior team," he asserts.
"Now everyone wants to know what is next for the U-17 team or the U-16 team because they are the future teams who have a shot at playing bigger tournaments at the international stage.
"Even in the league if you see so many youngsters got a chance who are still in their teenage years and it's great that so many young boys are being trusted by foreign managers. It shows that we have good upcoming players."
While he has faced up the likes of Robbie Keane and Dimitar Berbatov in the ISL, Sajid chooses FC Pune City's Emiliano Alfaro as the toughest attacker he has squared up against.
"The toughest attacker I faced this season was Alfaro of FC Pune City. He is strong and has great ball control. So it becomes difficult to take the ball away from him. And if you give him the slightest chance in front of the goal he will make you pay," he quips.
Playing alongside seasoned professionals like Venezuela's Gabriel Cichero and Spain's Edu Moya in Delhi's defence has worked wonders for Sajid's development as a footballer in his own words.
"Cichero is a very experienced player and he came with a very illustrious career as well. So it was great to have him in the side and especially in the defensive position. He was an amazing person to have in the training. After the training, we used to sit back and talk about how I can improve my game.
"He mentioned things about his past and shared stories and experiences about his game that helped me learn a lot of things. And not just him we had Edu Moya as well who shared insights from his game and they both made me a lot better over the course of the season," he gushes about the two senior defenders.
While the ISL season is now done and dusted, Sajid has already shifted his attention to creating an even greater impact in 2018-19.
"I want to play as much as I can and I am ready for whatever situation the coach puts me in. I want to keep getting chances because that's the only way I'll get experience and become a better player than what I already am. I hope to feature regularly from the start next season onwards. This season injuries hampered me but I hope that next season I can stay fit for the entire duration and be ready whenever the coach calls me up," he says with confidence before signing off.