Indian Super League
ISL 2018-19: Refereeing decisions court controversy in Kerala Blasters' draw with Pune City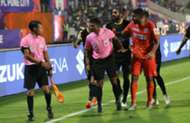 As Kerala Blasters were held to a fourth successive draw in the Indian Super League (ISL) by FC Pune City on Friday night, coach David James and co. would have been left frustrated by a couple of refereeing decisions. 
Though what unfolded at the Shree Shiv Chhatrapati Sports Complex in Balewadi had the feel of a match between two teams desperate for a win, there was no real fluency nor rhythm for both teams. 
Despite Kerala's dominance, Pune took the lead after a moment of brilliance from Marko Stankovic. The 25-yard stunner from the Austrian ensured the visitors would attack them for the remainder of the first half to try and find an equaliser. 
That they did and should have had it in the 41st minute but for some inexplicably confused refereeing. 
After a goalmouth scramble, Nikola Krcmarevic seemed to have bundled the ball in despite the best efforts of goalkeeper Kamaljit Singh and Emiliano Alfaro on the line. The referee, after some consultation with the linesman, who incidentally was stationed at the far touchline, awarded the goal. 
However, confusion reigned as he appeared to have overturned his decision and cancelled the goal a few seconds later. The replays showed that the ball had not completely gone over the line.
But startlingly, Alfaro had used his arms and shoulders to prevent the ball from going in which should have been spotted. It would have meant a straight red card for the Uruguayan and a penalty for Kerala Blasters. 
But referee Om Prakash Thakur was oblivious to all this. Understandable, given the commotion in there but if there was a Video Assistant Referee (VAR) available, it could have been avoided.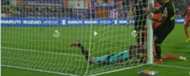 He would court the spotlight once again in the second half when he awarded a penalty to Alfaro for the slightest of touches inside the box from Krcmarevic, prompting furious reactions from the visitors. 
Yes, Alfaro would miss it and then Kerala would get an equaliser. But there is no doubt his earlier decisions did affect the outcome of the match.
Such decisions make the call for VAR even louder and probably justified. 
David James had made it clear last season that he was not expecting the refereeing to be of a world-class standard and it would be too much to expect in the ISL which is only into its fifth season. 
"Ultimately, we are four seasons into the ISL and expecting the referees to say like the standard of the Premier League while the football isn't is asking too much," he had said last season. 
However, consistency in refereeing is something he would have come to expect after last night's game. And if the VAR helps in bringing consistency, the league should take a look at the same.