NorthEast United
ISL 2018-19: Eelco Schattorie - Kerala Blasters are unpredictable
Fifth-placed NorthEast United FC will eye full points and a climb up the Indian Super League (ISL) table when they face Kerala Blasters at home on Friday.
The Highlanders are off to a very good start in the league this season and are showing early promises of making it to the playoffs.
When asked if the lack of national team players in his squad is an advantage as there was no travelling involved, NorthEast coach Eelco Schattorie opined, "It completely depends on how you look at it. There is always an advantage for one team and disadvantage for another team. Rowllin Borges was with the national team for some time and then came back. In this short period of time, we had some injuries which I am not very happy with. So there is always some disadvantage.
"What I mostly want to focus on is our own situation. I can even say that teams who have more players in national probably have more quality. It completely depends on how you look at it. Every team have their own advantages and disadvantages.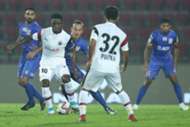 "I am still itchy from our last game, we should have got three points. But that is part of football, can't blame anybody. We had two weeks to prepare and the atmosphere in the team is good, there is a good feeling. We get Mislav (Komorski) back from suspension. The question is how he will respond."
The Dutch coach called Kerala an unpredictable side and was cautious ahead of facing them. He said, "For Kerala, the thing that really stands out is that they had a lot of changes. In the last game, they had four or five changes from the game before. I think they are a very unpredictable team.
"Their strength is that they are a little opportunistic like they have players like Len Doungel and Halicharan Narzary who were in our team last time. They are good with dribbles, they play long balls. Defensively they have some weaknesses which I am not going to address, I studied the team well. But it will be difficult for us as they have a good away record. They had many draws so they will want to win."
On injuries in the squad, Schattorie stated, "We have one foreigner injured who might not play for the entire season but I will not name him now as it can be an advantage for the opponents. Barth (Bartholomew Ogbeche) had some injury but he is back. We have some Indian players injured but this is part of football. The simple reality is that if you are a team with a smaller budget like us, we don't have the second team behind the first team and you have fewer options. But this is not an excuse, this is a fact."