Indian Super League
ISL 2018-19: Jorge Costa demands consistency from Mumbai City FC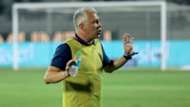 Mumbai City FC bounced back from a humiliation at the hands of FC Goa which ended in a 5-0 defeat by beating a hapless Delhi Dynamos side 2-0 at home. Head coach Jorge Costa is wary of a pallid Chennaiyin FC and expects a tough game.

"We will have a difficult game tomorrow. We respect Chennaiyin. It is true that they did not start well. But they have very good players and a coach. We must respect them. We will try to do our best tomorrow," he said.
The Portuguese wants his team to deliver consistent results as he believes that this will be the key to come out on top in a clustered league table. Mumbai performed well against Pune and Delhi but were handed a thrashing by Goa in between the two games.

"After the Goa game, we had a very good first half. We had six, seven, eight clear chances to score. I was not happy with the last 20-25 minutes. Before that, we had a good game against Pune and after that, we did well against Delhi. Now I want to give some consistency to the team and get results. At the moment, in the league, a lot of clubs are separated by only one or two points. We need to try to separate ourselves from that with a win," Costa observed.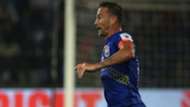 The 47-year-old wants his squad to deliver amidst the injury-problems as they look to minimise the effects of Matias Mirabaje's absence on the results. Costa is happy with the leaders he has in his team and pointed out that Lucian Goian might be leading the team against Chennaiyin.

"He (Mirabaje) will not play tomorrow. From the beginning, I don't have foreign players or Indian players. I have a squad. Last game, Joyner (Lourenco) and Ravi (Kumar) were good. They played well. They are working hard. Amrinder (Singh) is fit for tomorrow.
"I have three-to-four players who can lead the dressing room. Goian is one of them. I took the decision to not have just one captain because they all have," he stated.