Bengaluru
ISL 2018-19: Carles Cuadrat pleased with Bengaluru's display against Goa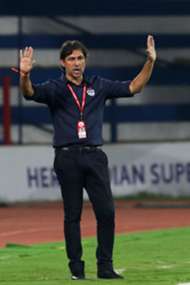 Bengaluru FC picked up their fourth away win on the trot in Indian Super League (ISL) as they beat FC Goa 2-1 at the Fatorda Stadium.
Rahul Bheke and Sunil Chhetri were on target to seal a victory for the Blues. Brandon Fernandes scored the only goal for the home side.
Speaking of the match, Bengaluru coach Carles Cuadrat said, "I'm very happy because we know what type of a team Goa is and how difficult it is to win here. There were a few circumstances in the game that changed a few things. It turned into an emotional game with two red cards and in the end, it was a question about who scored the winning goal. We were clinical in that counter-attack with Udanta (Singh) and Sunil (Chhetri)."
Two important members of the Bengaluru FC squad, Miku and Erik Paartalu were not part of the match due to injuries.
"We don't really know for sure (about the injured players' return). It was something that was sudden. Miku had a problem with his ankle. About Erik, it was an unfortunate infection in the toe," said the Spanish coach.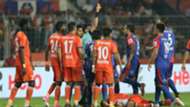 Carles was seen doing a hand gesture towards the camera after Dimas Delgado was shown a direct red card. Explaining his gesture, he said, "I made a gesture because I was shocked at the moment about the reason for the red card. I think referees have a very difficult job and we have to try to help them, but sometimes they make decisions because of the circumstance."
The Bengaluru coach heaped praise on Rahul Bheke who scored an excellent opening goal with a cheeky back-flick.
On Bheke's performance, Cuadrat said, "Rahul (Bheke) has the quality of not only working in defence but also in attack. We are very happy with his performance and he could score some more goals because he has that quality in attack."
The Spaniard bragged about Bengaluru's bench strength as they picked up a difficult victory without two of their main players.
He said, "Today was a very good example of the situation we had in our squad. Everybody from the start of the season is working hard. Because of the calendar also, we play some players who haven't played before.
"In two weeks, we have to play five games. So it will be an opportunity for most of them to show that they are keeping the rhythm of the team."