Indian Super League
ISL 2018-19: Carles Cuadrat continuing from where Albert Roca left off at Bengaluru FC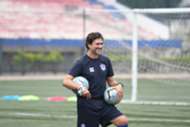 When Bengaluru FC appointed Carles Cuadrat as their head coach, it was a decision which was met with scepticism. The Indian Super League (ISL) had altered their rules for the appointment of head coaches this season which also paved the way for the Bangalore-based outfit to bring Cuadrat onboard.
While the club explained their decision citing continuity being a major factor, there were murmurs of how the club was taking a risk with Cuadrat's appointment given that he had never been a head coach before.
However, going by the start Bengaluru FC have had, it is fair to state that Cuadrat is continuing the good work done by his predecessor Albert Roca at the Bengaluru FC.
The Spaniard joined Bengaluru along with his compatriot Roca in 2016 and has underseen a seamless transition for the team in their second season in the ISL after being elevated as head coach.
Having worked with Roca in Frank Rijkaard's coaching team at Galatasaray and Saudi Arabia, Cuadrat joined him in his tenure with the El Salvador national team before following him to Bengaluru.
Having seen Bengaluru romp to a runners-up finish in their maiden ISL campaign, Cuadrat has very much continued the philosophy of Roca at the club. The Blues have made an impressive start to their campaign under him with three wins a draw and look every bit the team that made them early contenders for the title last season.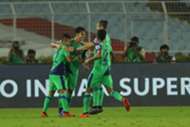 Up front, Miku and Sunil Chhetri have been their prolific selves and have continued to bang in the goals. Like last season, the team has maintained a good balance between defence and offence and has conceded only three goals at the back, the least in the league so far.
Cuadrat's job at Bengaluru has very much been about continuity and it is one he has performed admirably.
"The management is always there with a plan. I think it made sense for them to keep the work they were doing with Albert (Roca) and put it in my hands because in the end, it is the same philosophy that matters," he had said before the start of the season.
It has very much gone to plan for Bengaluru in that regard. Building on a strong platform and continuing the good work is not always an easy task in football. Which is precisely why the job Cuadrat is doing at Bengaluru so far looks even more impressive.
Now it is all about continuing the good work and hope that they can qualify for the play-offs and go one better by winning their first ISL title this season.