Indian Super League
ISL 2018-19: Steve Coppell - ATK deserved something from the game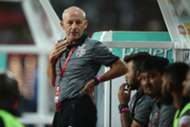 ATK could not make use of John Johnson's insights on Bengaluru FC as Steve Coppell' team lost 1-2 at the Salt Lake Stadium in Kolkata on Wednesday. 
The gameplan seemed to be working when Komal Thatal's effort from distance beat Gurpreet Singh in Bengaluru's goal in the first half but Bengaluru came from behind through goals from Miku and Erik Paartalu. 
Interestingly, Bengaluru's goals were scored from set-pieces. The equaliser was a direct free-kick that was curled into the net by Miku and the match-winner was a Dimas Delgado free-kick that the hosts failed to clear inside the box. 
"They are very inventive on set-pieces and obviously they have a couple of quality players. We were aware of that beforehand and didn't want to give away silly fouls. We had a very specific game in mind.
"We went ahead through a terrific goal from Komal. Kalu's (Uche) substitution was a bad one for us. He's a key player for us. We gave away a silly free-kick before half-time. It looked like a terrific strike. The 2nd goal just went through the players. I don't know if the ball went out at first, but didn't think that was the case.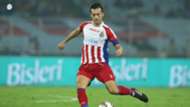 "The players showed great effort and ability after going down. I felt we deserved something from the game. But football is a cruel game sometimes. We feel very disappointed that the match went the way it did," Steve Coppell opined after the game. 
When asked if he needs to rethink the defensive game of ATK, the coach explained," I'm always thinking about my defence. I haven't reflected on the game as yet. We need to get clean sheets.
"The first goal was a quality strike. It wasn't a defensive error. The second one was. When you look at your defence, you ask yourselves if there's anybody to change and then ponder if we have to change anyone. We just need to get clean sheets."
Coppell also added that he felt that the refereeing was harsh on his team, "We've had a few matches this year where we've come out of a match with three or four booking and the oppositions haven't got one. I don't want ot criticize the referees. We feel as if we're being punished in some games and the opposition aren't. I feel the referee were a bit harsh on us."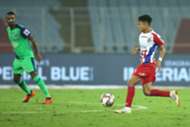 He further added, " They're a good side obviously, you look at the number of wins they had last year, the stars they have this season. The unity of their team is fantastic. We respected what they're capable of. I think if we went to half-time 0-0, it would've been a different game. But when you give opportunities like that at the edge of the box to a goalscorer like Miku, you're asking for trouble really."
Former India U-17 starlet Komal Thatal scored his first goal for ATK on Wednesday. He beat Nishu Kumar for pace, got in behind the opposition's defence and smashed home from outside the box, leaving an outstretched Gurpreet Singh with no chance. 
"Right from day one when we're in Spain, his level of commitment and skill has been very noticeable. When I saw him, I just thought he's a good player. He was 17 at that time and is 18 now obviously. If he continues to be humble and continues to work as hard as he's right now, then he'll continue to improve.
"He was patient at the start of the season and now that he's come into the team, I'm happy he's there. He's energetic and clever and we've been encouraging him to move. His goal was fantastic."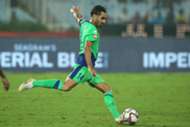 While some teams have had it tough playing a match every two days, Coppell felt that having a big gap is also detrimental to the squad's momentum.
"The main thing to hamper the momentum is that we don't play for 10 days. After that, we don't play for 14 days. Every footballer likes to get into a rhythm. It wont hamper the momentum if we win our next game.
"We need to train to get better, be tighter defensively and be more creative going forward to win our next match. Our next match is a very big game or us. If we don't win, we obviously have a lot to do. It'd be better for every game to be on a Saturday or have 4-5 days gap between games."
Kalu Uche had to be replaced in the first half after he picked up an injury and Coppell revealed that the former Delhi Dynamos striker has damaged his quadriceps muscles. 
"I was really surprised when he stayed down. I thought he would get up after the first challenge, but he stayed down. He's such a genuine bloke that he stayed down and I knew something was wrong. He's damaged his quadriceps muscles. Those are very important for footballers. He'll have an MRI scan tomorrow morning and then we'll determine how extensive the problem is. I think it might be an issue. But with our next two games being in 20 days, it could work to our advantage."