Indian Super League
ISL 2017: NorthEast United coach Joao de Deus rues defensive error and missed chances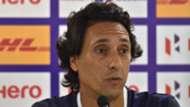 NorthEast United FC lost 1-0 to Bengaluru FC in Guwahati's Indira Gandhi Athletic Stadium on Friday evening courtesy a goal from Miku in the opening minutes of the second half. Coach Joao De Deus pointed out two key reasons for his side's loss to Albert Roca's men. 
"Two things didn't go well. The first one was the mistake.That mistake has cost us the match. Secondly, we failed to convert chances. Chances that are impossible to miss. These are the key points of this game.," stated Deus.
He does not believe that his side was second best in quality and instead emphasized on the two points for his side's loss.
"It is not true that we lost because the opponent was better than us. It is not true that we lost because we do not have the capacity or we did not fight. We lost because of the mistake and we failed to score from chances that are impossible to miss."
He vehemently defended his strikers even after a string of misses and said, "Even the best of the world is having a bad moment with his team. My striker is good, my striker is very good. He failed to score from three or four chances today but he put in a lot of effort. Sometimes he hit just wide, sometimes the goalkeeper saved it. This is all part of football."
NorthEast United will now travel down south to take on Kerala Blasters on December 15.