Indian Super League
ISL 2017-18: Eelco Schattorie - TV pundits have no idea what they're talking about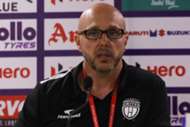 Eelco Schattorie, the assistant coach of North East United, stressed that his team does not lack motivation as they prepare to take on Delhi Dynamos in a bottom-of-the-table clash in Indian Super League (ISL) on Wednesday.
Further, the coach disagreed with pundits on Delhi Dynamos' woes this season and reserved praise for the Lions .
"I see a very motivated team (NorthEast United). Players are very positive and everybody is really trying to win the remaining games. Of course, when your chances are over for qualification, it is bit difficult but yesterday night in our video session everyone was interested to learn and rectify their mistakes. This is not just saying but I sincerely believe in it," said Schattorie. 
"I was not here during that game (first leg). But I am from Holland where we like to play football to get results. I always get upset when TV pundits say Delhi are playing nice football but they cannot get the ball forward. They have no idea what they are talking about. They play fancy football and their problem resonates with that of us and Kolkata as all these teams have had a problem in scoring. Their defence have conceded around 30 goals but I think their problem is not on the pitch but mental as their defence is good," opined Schattorie.
The Dutch coach informed that Helio Pinto is still injured and Halicharan Narzary is only half fit.
This is Schattorie's second stint in India and the assistant coach took time to share his opinion on a few Indian players.
"One of my favourite players is Md.  Rafique. I would like to have him on my team. Then Souvik Chakrabarti who is now playing as a right back but I think he is a good midfielder. It all depends on how you utilise him. Harmanjot Singh Khabra is also a midfielder. He might be not that technically good but he has a lot of dynamics and can be more useful in midfield rather than right back.
"We have played against all top teams and no team is very good than us. The only difference is individual quality. Against Pune, we created more chances than them but overall, in the end, their number 10 made the difference. Chhangte is also a very nice player who just lacks the experience but I am sure he will develop into a great player in the upcoming years," signed off Schattorie.