World Cup
Is Team USA at World Cup 2018? How the USMNT failed to reach Russia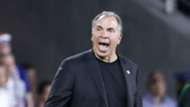 It would take something extraordinary for the U.S. national team to miss out on the 2018 World Cup in Russia.
Going into the final game of CONCACAF fifth-round qualifying in what was supposed to be a relatively simple trip to Trinidad & Tobago, only a set of freak results would see the U.S. fail to make the finals of the competition for the first time since 1986, but that's exactly what happened. 
Bruce Arena's side fell to a 2-1 defeat in Couva and finished fifth of six teams in one of the most devastating nights in the history of American soccer.
But where did it all go wrong? Goal takes a look at how the United States crashed out of the competition against all odds.
---
USA home form
---
Having won four straight home qualifiers against Mexico by a 2-0 scoreline, the U.S. was hoping for another straightforward victory in the opening fixture of the Hexagonal. Goals from Miguel Layun and Rafael Marquez gave the visitors a surprise 2-1 win, however, with Bobby Wood having leveled the game for the hosts in the second half. 
The defeat was a major blow for the U.S., but by no means a disaster with plenty of time to recover and claim a spot in Russia. 
A trip to Estadio Nacional followed with Costa Rica the opponent, and nothing less than a comprehensive victory would make up for a dismal start. A shock 4-0 defeat heaped more misery onto proceedings and marked the end for Jurgen Klinsmann's five-year spell as coach.
The reverse leg against Costa Rica would prove just as harmful, though, with two goals from Marco Urena putting the hosts to a 2-0 loss in New Jersey.
While home defeats to Mexico and Costa Rica weren't the sole reason for the U.S. crashing out of qualifying, they absolutely had a say.
---
Managerial uncertainty 
---
Upon his arrival, Arena initially offered the stability that Klinsmann failed to achieve in his final games. 
His appointment sparked an upturn in results in the shape of a 6-0 victory over Honduras and a credible 1-1 draw at Panama. Arena had also picked up a 2-0 home win over Trinidad & Tobago and an unexpected point against Mexico at Estadio Azteca with a heavily rotated side.
On the face of it, the rotation of backroom staff made sense. It wouldn't be long before the same cracks reappeared, however, and a number of decisions made by Arena would come back to hurt him.
---
Injuries and player selection
---
The USA's opening defeats to Mexico and Costa Rica came at a time when seasoned national team star Clint Dempsey was suffering with a heart issue, which later denied him a regular spot under Arena as a precaution. 
It was the bizarre exclusion of Stoke City's Geoff Cameron, who started four of the first five qualifiers following Arena's appointment in November 2016 before being dropped for the final three — including the decisive loss in Trinidad — that proved a sticking point with supporters.
"It was pure embarrassment and shame. It was the most depressing moment I've had in my entire career," Cameron said following the result. "Everyone wanted to know how. How could we lose to Trinidad & Tobago with the World Cup on the line? But to me, the problems run deeper than just one game.
"After Jurgen Klinsmann was fired, and Bruce Arena took over, we got too comfortable. We lost our ambition and sense of progress. But more than anything, we lost any sense of competitiveness."
The circumstances surrounding Cameron's exclusion is unclear but the player's words on the general situation paints a damning picture of those involved with the national team. 
---
No cojones from USA
---
And still, the U.S. was in position to book its place in the finals. In front of the World Cup dream stood Trinidad & Tobago, the world's 99th-ranked team. Beat them and the U.S. would have a spot in Russia secure. Even a draw left little doubt of a place at the finals for the Americans.
The hosts were uninspiring in their approach and the result was a direct culmination of the above. And still, despite the defeat, the U.S. had a very slight chance in reaching Russia.
The U.S. needed Mexico to win or draw at home against Honduras, or Costa Rica to win or draw in Panama. Neither happened. Mexico fell to a 3-2 defeat, and a goal that was never a goal gave Panama a win over Costa Rica. The dream was over, and Arena eventually stepped down as head coach. 
A new U.S. Soccer president, Carlos Cordeiro, was selected as the rest of the country was left to dwell on what could have been.
What will be most disappointing, however, will be that a number of U.S. fans saw the sequence of events unfolding at least a year in advance.