Eden Hazard
Injured Hazard 'not ready to play 90 minutes' against Palace - Sarri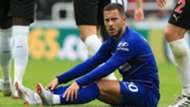 Chelsea winger Eden Hazard is a doubt for the Premier League visit of Crystal Palace as he continues to be hindered by a back problem.
The Belgium international has missed the last two games - the thrashing of Burnley and narrow Carabao Cup success against Derby - with the issue.
Assistant coach Gianfranco Zola said in mid-week that Hazard's fitness was improving and the 27-year-old did appear in training on Thursday.
But manager Maurizio Sarri says it is unlikely that Hazard will start the game after suggesting he is unable to play for longer than 45 minutes this Sunday.
"I don't know," he told the media ahead of the visit of Palace. "Eden yesterday had a large part of the training with the team. 
"Maybe he will not be ready to play 90 minutes because it was the first part of training for a few weeks. 
"He might be able to play for 40/45 minutes. So for us it is important. 
"I don't know [if he can start] I want to speak with him first."
If Chelsea are indeed without Hazard, it could hinder their chances to extending their unbeaten run at the start of the new Premier League season to 11 games, and keeping the pressure on co-leaders Manchester City and Liverpool.
Already the first Chelsea manager to remain unbeaten after his first 10 Premier League games, Sarri can add another record to his collection for the visit of the Eagles.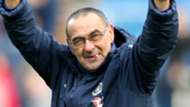 If they remain undefeated after facing Roy Hodgson's men the Italian will equal a 24-year Premier League record set by Frank Clark who avoided losing in his first 11 matches of his reign at Nottingham Forest.
Sarri admits he has been surprised by his early success in England but is unconcerned by the prospect of equalling the feat.
"I don't want to think about the record, only to think about the match and to gain points," he added.
"The record is only a consequence of the match. 
"I have to send the message to my players that the match is the only thing that is important.
"In every experience I had before I was in trouble in the first two months. 
"I thought it would be the same here, but I was lucky. 
"The players were able to win without a very good level of tactical organisation."