West Bengal
Indian Football: West Bengal government to sign MoU with Netherlands football federation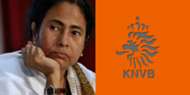 West Bengal Chief Minister Mamata Banerjee is expected to sign a Memorandum of Understanding (MoU) with the Royal Dutch Football Association (KNVB) on 20th June at The Hague.

BJP leader ready to be 'of help' to Mohun Bagan and East Bengal

As reported in Kolkata-based Bengali daily Sangbad Pratidin on Thursday, Banerjee is expected to meet the Dutch Sports Secretary Martin Van Rijn before the All India Trinamool Congress leader partakes in the United Nations Public Service Forum on 22nd and 23rd June.

The exact clauses of the MoU are yet unknown, but it is expected to include exposure programmes for players and coaches from the state. Sources indicate that the MoU will run on similar lines that the All India Football Federation (AIFF), India's FA already has with France, Germany and Japan.

Meet Flavia and Simone Pinto – The aunt & niece duo from Mumbai, hell-bent on supporting Indian football

Didi, as Banerjee is affectionately called, is known to harbour a keen interest in sports. Invited by the United Nations, the Bengal CM and her team will reach The Netherlands with ample time in hand to partner up with the European country in the field of sports, arts and commerce.