Liverpool
'If they need my opinion, I'll give it' – Van Dijk talks up potential Liverpool move for De Ligt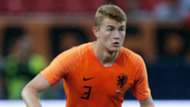 Virgil van Dijk says he'd be happy to offer Liverpool his opinion if the Reds were to consider signing Ajax centre-back Matthijs de Ligt.
De Ligt continues to impress for both club and country at just 19 years of age, with a number of top clubs, including Manchester City and Barcelona, said to be interested in signing him.
Liverpool star Van Dijk became the most expensive defender in the history of the game when he joined from Southampton in January and it seems that Netherlands are on the verge of producing another world class defender.
When asked for his thoughts on the development his Oranje defensive partner, Van Dijk told Dutch newspaper De Telegraaf: "He is already very far, especially at that age. A good defender, good boy, calm, knows what he wants and hopefully he makes the right choice in his next step."
Van Dijk was pressed on whether that next step could be Liverpool, but the Dutch captain insists he has not informed Liverpool that they should sign him. 
"He will be on the list, because they have enough scouts at the club." 
He was then asked whether the best scout would be him, the player that plays alongside him for the Netherlands, to which he replied: "No, but if they need my opinion at Liverpool, I'll give it."
Jurgen Klopp's side are said to have paid £75 million ($100m) to lure Van Dijk from Southampton at the start of the year, but the development of De Ligt has led to suggestions that Ajax could be set for an even higher fee when the centre-back decides to move on.
Van Dijk, though, has jokingly suggested that no club would pay a world record fee for his international partner at this stage.
"No, they will pay less for Matthijs. The amount for me was very high, though," he said. "No, in all seriousness. It's just like that and, if he ever becomes the most expensive defender, I'll be the first to congratulate him. "
Both Van Dijk and De Ligt are gearing up for Netherlands' next Nations League fixtures against France and Germany in the coming days.