A-League
'I was at 50 percent' - Brisbane Roar star Eric Bautheac reveals his tough A-League introduction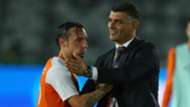 In patches Eric Bautheac showed what he could deliver for Brisbane Roar last season, but much like the club's own campaign, his performances lacked consistency.
The French winger arrived in Australia after a career spent entirely in France and was enticed Down Under after chatting with Fahid Ben Khalfallah.
While excited about playing in a new country, visa issues held up Bautheac's arrival and the 30-year-old has revealed the toll that took on his first season with the Roar.
"In terms of football, I didn't have any preparation at the start of the season," Bautheac told Get French Football News.
"When I arrived, I'd had a problem because my visa hadn't been accepted straight away. It took two months, so for two months I hadn't been training.
"It was a hard season for me, even if I'd played some good matches, I would say I was at 50 percent of my usual level.
"This season, things are different and I'm building on a good base. For starters, I've got a full pre-season – I scored two goals in our first friendly match – so I'm feeling a lot better now."
Considering he was only at 50 percent, Bautheac still managed to deliver on occasion for Brisbane as he scored twice and picked up four assists across 21 league appearances.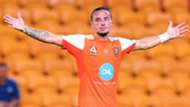 Having played in the France's top division with the likes of Nice and Lille, the attacker has had to adapt to a new style of football in Australia but believes it suits him.
"I would say it's more like the English game than the French style, because it's a lot more open, and teams are more focused on attack than defence which makes for a greater spectacle," he said.
"As an attacking midfielder, that's great for me."
Another factor in favour of Bautheac is coach John Aloisi, who he admitted to having a real admiration for.
"Here, the staff is exceptional – the coach, John Aloisi, a former international, is a great guy and it's a pleasure to be working with him day in day out," he said.
"If someone has something to say, or if their opinion differs from that of the coach, they will be listened to.
"They will make an effort to find a solution, and this is great. If he asks something of me and I don't agree, then we can talk it over. In France, you always do as the manager says."