I-League
I-League 2017-18: Gokulam Kerala coach Bino George unhappy with logistics - 'I don't know why they're doing this!'
Gokulam Kerala head coach expressed his frustration over lack of arrangements and proper facilities for his side ahead of their crucial I-League match against title favourites Minerva Punjab on Tuesday.
The Kerala-based side recently pulled off consecutive giant-killing acts by defeating Mohun Bagan and East Bengal in the same week but coach Bino George was unhappy about the travel arrangements and facilities made available to them.
"I am not happy with they are doing, I don't know if they are authorities or not. After a tough match, we had too much travel. Today I asked the ground for one day. If they cannot give the ground, we can arrive today. Why do we have to go to a different ground? 
The match commissioner told that the ground is not available. But he is the authority, he should know when the teams are coming. Last night we reached at 8 PM. They need sleep. Without training, how can we play?
After a tough match, there is no direct flight to Calicut. Calicut to Kochi we came by bus at night in a four-hour travel. From Delhi, eight hours again bus. At least they could have sent a sleeper bus, it would have been better for the players. I don't why they are doing like this," the coach cried foul.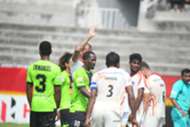 Speaking about the game, the Keralite said that his team is up for a fight. "We have no pressure. East Bengal and Minerva Punjab are fighting for the title. We will fight and play better to earn points."
Minerva Punjab head coach Khogen Singh stressed the importance of getting the players to realise the weight of the fixture after their loss to title contenders East Bengal at home in their last game. 
"It should be a good match. Unluckily, we lost the match against East Bengal. I hope the boys understand what we want from this game. We convinced them that this is one of the most important matches in I-League. The boys have to understand this play their 100%.
If we win matches and go top of the table, the boys will be more relaxed. We are motivated," said Khogen Singh.