I-League
I-League 2018-19: Alejandro Menendez - We want the entire team to be powerful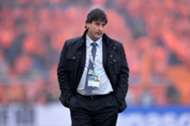 East Bengal are all set to take on NEROCA FC in their I-League opener on Saturday at the Khumnang Lampak Stadium, Imphal. 
On the eve of their season opener, East Bengal's newly appointed Spanish coach Alejandro Menendez expressed confidence in his team.
"We are confident for tomorrow's match. We want to win. We know the opponent are a very difficult team but we want three points."
On opponents NEROCA, the Spaniard opined, "I said before that NEROCA is a good team and this is a very difficult place to win. I expect a tough match."
One of East Bengal's star names is Costa Rican World Cupper Johnny Acosta Zamora. "Of course this player (Zamora) will help us build a stronger defence. However, the most important is the team. We want the entire team to be powerful, not only one player."
Menendez confirmed that other than Mahmoud Al Amna, who has a back injury, and striker Gagandeep Bali has also not travelled with the team.
"We have one player that cannot come for personal reasons but no more injuries. (Gagandeep Bali)," said Menendez.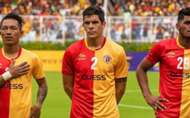 Meanwhile, former Aizawl FC coach Manuel Retamero, who is in charge of NEROCA this season, spoke on the challenges of taking up a job at a club which challenged for the title last season.
"I am so excited and happy to come back to India, especially with this club. I love the people here in the North East. Our goal this year is to improve upon last season. It is difficult because we have a new coach, new style and new players. 
"But we must show to everyone our ability. We need to think from match to match. This is our time to show to everyone that we love football. I can feel that in the city and in the pre-season with the fans. We must support each other and we are doing that. Now the ball is in our hands. Finally, the I-League is here and we must show everyone that we are ready."
On asked if East Bengal having a World Cup star is an added advantage for the visitors, the NEROCA coach said, "They choose their players, they can do that and they did. For us, it is okay. I am just thinking about my team. My team is ready and I told them we can win against everyone."
Former East Bengal and Mohun Bagan starting Katsumi Yusa has joined the Manipuri outfit this season and Manuel Retamero expressed his happiness at having such an experienced player in his side. He said, "It is important to improve the local players but to be honest, we are not here to run an academy. We want to win. 
"I am very proud of this that we have local players with experience as well as foreign players with experience. I first saw him (Katsumi) play for Mohun Bagan and I think he will play a pivotal role this season for us. I would love to have eleven players like Katsumi in my team if it was possible."
The NEROCA boss expects to begin their season with a win on Saturday against the Kolkata giants. He said, "Of course we want to win every time. Even if I win 1-0, I am very happy."