I-League
I-League 2018-19: Gift Raikhan - East Bengal win a turning point for Aizawl FC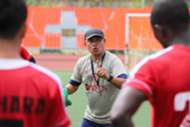 After masterminding a pulsating 3-2 win over East Bengal, Aizawl FC coach Gift Raikhan feels that his team have turned a corner following a tough start to the season. 
They were languishing at the bottom spot after five games but Saturday's win took them to eighth spot with five points in their kitty.
Raikhan went on to state that his team have been playing well in all those matches but frailties while dealing with set-pieces had affected them. 
"We deserved to win against East Bengal. We've been working hard. We have played well every match but we have conceded goals in set pieces. That we have to work on. Otherwise, we are playing well with confidence. We needed to trust one another. We did that and played together.
"This match will be a turning point for us," he stated before adding, "If we can draw with Mohun Bagan and beat East Bengal, we can beat any other team. So please support our young boys. Our boys are all just emerging. They need support."
"Now all I-League clubs have seen that Aizawl FC are a good team. We needed that."
On Saturday, East Bengal capitalised on Aizawl's physical limitation and scored a goal from set-piece. Raikhan, while acknowledging the same, promised improvement. 
"Our problem is because we are physically not superior. Though our players are short, we needed to stick tight to the opponents. But they (opponents) are so clever that the moment the ball comes, they push us down and move away. We have to work on this and have more experience on our man-to-man marking."
The match did witness some heated moments with East Bengal players letting their emotions out after seeing several refereeing decisions go against them including a legitimate goal that was cancelled out. But Raikhan lauded his team for maintaining their emotions well and controlling the game. 
"East Bengal's Spanish players were getting angry and were doing drama. But we were cool and controlled the game."