I-League
I-League 2017/18: Alfred Fernandes blasts referee after Churchill go down to Bagan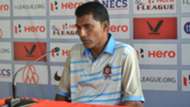 Mohun Bagan stayed alive in the I-League title race after beating Churchill Brothers 2-1 in Goa on Saturday. 
But Alfred Fernandes, head coach of Churchill Brothers, fumed at the post press conference after claiming that his team was once again robbed by the referees, pointing out a goal which was ruled out for being offside during the game. 
"There is a lot to be desired from the refereeing. It was not off-side, there was no infringement. We have been literally been murdered by the referees. I can give video evidence. If a legitimate goal is disallowed, I don't know how we are supposed to score," said Fernandes.
The Goan coach blamed the lack of concentration for the second goal but praised Bagan for their ability to convert goal scoring chances.
"We could have finished the game in the first half. We created a lot of chances but could not convert. They (Mohun Bagan) got three chances and converted two. So that is the end result.
"We were very confident of this match. Now it's the (Minerva) Punjab match which is a do or die game for us. Even a draw is not sufficient. We have to go out and take your chances," stated Fernandes.
Churchill had to replace Mechac Koffi and Kalu Ogba with Frincis and Siyo who have not yet produced the goods for the Red Machines. The coach did not mince words to express his unhappiness over the performance of these two strikers.
"We had to release (Mechac) Koffi who had a fracture in his foot. He played with pain for three matches but he could not continue like that. It was better to replace him with another striker and we got these two strikers who did not deliver for us," said Fernandes.
Whereas, Sankarlal Chakraborty, head coach of Mohun Bagan, heaped praise on his boys as they managed to eke out the full kitty of points against a Churchill side which refused to back down. 
"My players showed the guts because we needed to be in the race and hope for a championship. Ultimately we won the match but Churchill (Brothers) played an excellent game. I always believe that it's difficult to play against Churchill here (Goa)," said Chakraborty.
The former assistant to Sanjoy Sen sounded cautious when he shared his thoughts about Gokulam Kerala, who got the better of his team in Kolkata and will again face them on the final matchday. 
"Gokulam has spoiled the party not only for Mohun Bagan, but for Minerva (Punjab) and East Bengal also. Gokulam defeated us in our home match which means that they have quality. We have a very tough match coming for us," stated Chakraborty. 
Nikhil Kadam, who scored the opener sounded more upbeat than his coach as he wants to leave no stone unturned to make Bagan champions.
"We have to win the next match (against Gokulam Kerala) to put pressure on other teams also (title contenders). There is no other choice for us," signed off Kadam.