I-League
I-League 2017-18: Alfred Fernandes - You don't expect us to win if the referees are not fair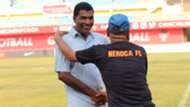 NEROCA defeated Churchill Brothers 1-0 in a crucial I-League encounter on Wednesday in Imphal to spice up the title race. An 86th-minute strike from Aryn Williams helped the home side seal three vital points to climb to the top of the league table.
It was an evenly contested match which saw players from both sides missing a series of chances. Churchill's Nicholas Fernandes failed to push the ball into the net from handshaking distance while Aryn Williams failed to score from a one-on-one position. 
Churchill coach Alfred Fernandes felt that his side dominated proceedings and deserved to win but poor refereeing killed the match for them. Speaking on the matter, he said, "As I said we were expecting a tough match. We were dominating. You don't expect us to win if the referees are not fair. They didn't give two clear penalties. For me, today's refereeing was not up to the standard. In modern football, if a goalkeeper kicks a player with stretched leg, it is a penalty. The other one was a clear scoring chance and there was an infringement inside the 18 yards. Everyone in the stadium knew it was a penalty and a red card to the goalkeeper."
In the second half, NEROCA custodian Bishorjit Singh was seen intentionally kicking Nicholas Fernandes inside the box after collecting the ball. It was a needless gesture from the goalkeeper but the referee failed to judge the situation. This infuriated the Churchill coach.
Fernandes accepted that they missed some chances in the match but also mentioned that it was part of the game. "There can be some mistakes. We committed one mistake and it resulted in a goal. When they committed mistakes especially during the foul the referee did not give a foul. One bad mistake cost us at least a point," said Alfred.
Churchill now have four matches left in the season out of which two are away fixtures. Speaking on the hectic schedule, Fernandes said, "We have been playing back-to-back matches and a lot of players are having injuries. There is no proper rehabilitation, no proper rest.
"There is too much travelling so some of the players are having problems. But we have to deal with it. Players who are injured have to regain fitness soon and players who are replacing them have to prove their worth. We have another four matches to go. We are travelling to Chennai. Then we have two home matches and then we are travelling to Punjab. We have to put the points on the table. Hopefully out of these four matches we can win some."
NEROCA boss Gift Raikhan was understandably happy after the crucial win which kept them alive in the title race. Speaking about the match, he said, "The match was good. It was a very tough match. Our plan was to get three points. We are now at the top and all the boys are motivated. Fans in Manipur are happy."
Surprisingly star striker Felix Chidi did not start in today's game and was only introduced after 80 minutes. Explaining his decision on Chidi, Raikhan said, "It was a part of our strategy because Chidi was not fully fit. We chose the option to use him later and it worked."