Manchester United
'I know what they are' - Mourinho confident he understands Liverpool threat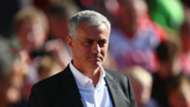 Jose Mourinho is fully confident that he and his side know what to expect from Liverpool in their Saturday Premier League showdown. 
Manchester United come into Saturday's visit to Anfield second in the Premier League and seven points clear of Jurgen Klopp's side, who currently sit seventh in the league. 
Despite the nature of the rivalry between the clubs, the former Real Madrid and Chelsea manager does not believe he is in for a shock when the two sides clash due to the growth in his knowledge of their players and playing style. 
"I just know the quality of their players and the qualities of their team," he said.
Man Utd 17/10 to win at Anfield
"Obviously the quality of their team has a relation with the quality of their manager.
"I've known that since last season, I know that better now because in the last couple of weeks I tried to analyse them and to study them in a more precise way. I know what they are."
While Saturday's showdown is clearly a big moment for the two clubs early in the season, Mourinho was quick to play down it having any more importance than any other game. 
"If a big game is only when you play Manchester City, or Liverpool, or Chelsea, then you have six big games a season," the 54-year-old said.
"The mentality I want with my players is that every match is a big match.
"When you are a big club you want to win titles, you want to win a competition like the Premier League and every match is the same, every point is the same, unless you go into a stage in the season where two or three clubs are fighting for a certain objective.
"Then you can consider, depending on your advantage or disadvantage, you can consider that that result is a result.
"Every match is important, every point is important."