Selangor
'I joined Selangor to win the Super League' - Syazwan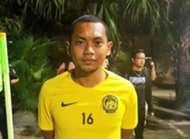 ---
BY        ZULHILMI ZAINAL       Follow on Twitter
---
Malaysia winger Syazwan Zainon is first to admit that he hasn't been playing at his best in the 2018 AFF Championship.
He made his first appearance in this edition on Monday, starting in the Harimau Malaya's encounter against Laos at home.
But as game tied at 1-1 and the hosts laboured to overcome the stubborn Laos defence, head coach Tan Cheng Hoe took off the winger for his younger former clubmate, Akhyar Rashid at the start of the second half.
Speaking to Goal in Hanoi, Vietnam, where Malaysia will take on tournament favourites Vietnam, he admitted that he has been struggling to contribute to the team, although he conceded that his desire to start in matches is only secondary to his aspiration of seeing the team win.
"I haven't been playing well at all, and I'm still struggling. But my teammates, the coaching staff, they have been really supportive in pushing me.
"Starting in matches is not important, I just want to see the team win regardless of who gets to play. It's an away match, so even if we can't beat them, we have to at least come away with one point," said the FA Cup and Malaysia Cup winner on Wednesday, before training.
He recently joined Selangor from Kedah for the 2019 season, a decision he attributed to his desire to win the one major domestic title that has eluded him.
"Selangor have a long history and a lot of glory, while I have one title that I haven't won; the Super League. I want to win it with them.
"My performance at Kedah has dipped, and I thought it was the right time to depart, in order to recapture my former form," said the 29-year old player.
Malaysia's match against Vietnam will be on November 16, Friday, at 7.30 pm Malaysian time.
Keep updated on the 2018 AFF Championship!
Follow Goal Malaysia 's Instagram account to see photos and watch videos from the AFF Championship!