Atlético Madrid
'I had a Zidane shirt as a kid!' - Atletico star Rodri idolised Real Madrid legend
Alberto Pinero & Ruben Uria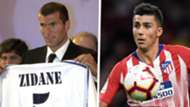 Atletico Madrid midfielder Rodri has revealed to Goal that he was a big fan of an iconic figure at arch-rivals Real Madrid when growing up, with Zinedine Zidane one of his boyhood idols.
The 22-year-old is currently looking to carve out a successful career at Wanda Metropolitano having completed a €20 million (£18m/$23m) switch from Villarreal over the summer .
He is considered to be one of the hottest prospects in La Liga and has slotted seamlessly into the fold with Atletico.
The hope is that he will become a superstar in his own right while with the Rojiblancos, allowing previous admiration for those on the other side of the Spanish capital to be forgiven.
Rodri told Goal when quizzed on the events of his past and hopes for the future: "I had a Zidane shirt when I was a kid.
"I want the fans to see me as a humble and normal boy."
France legend Zidane retained strong ties with Real until the summer of 2018 when he brought a successful spell as Blancos manager to a close.
If Rodri can follow in the illustrious footsteps of the World Cup winner, then he will have enjoyed quite the career.
That is his intention, with the talented playmaker already catching the eye in domestic competition while earning further senior international recognition with Spain .
"The best players are those who, at critical moments, have a cool head," Rodri added on his development to this stage.
"Luis Enrique is looking for a change, a regeneration of players. And he is doing well."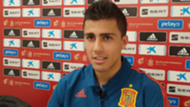 Rodri has three caps to his name so far, having been drafted into the Spain fold by previous boss Julen Lopetegui.
He was left out of a squad which could only make the last 16 at the 2018 World Cup, but that did allow him to focus on adjusting to the challenges faced in new surroundings at Atletico.
A UEFA Super Cup success has been taken in since linking up with Diego Simeone's side and the intention is to collect many more medals in the years to come.
Atletico are perched just one point off the Liga summit at present and on the verge of booking their place in the knockout rounds of the Champions League, but Rodri is not getting carried away.
"People would be deceiving themselves if they think Atleti is the favourite to win the Champions League," he added.
That may be the case, but anything is possible and Rodri will be determined to get his hands on that prize at some stage, just as Zidane did during his distinguished playing and coaching careers.